Carolina Beach

Beez Neez
Skipper and First Mate Millard (Big Bear and Pepe)
Thu 9 Jun 2011 22:12
En Route to Carolina Beach, North Carolina
We got up this morning knowing we were at low tide, soon to begin rising. Very funny as Bear went to do his anchor bit and I'm stirring Beez at eight o'clock; on nothing but the soft mud and going at zero knots, making for a fun photograph. Within a couple of feet I had found the channel, turned left as we always seem to do and within fifty yards had left South for North Carolina.
A massive property, a 'one careful owner' and Sandy's clearly needing a little sympathy
Something we haven't seen since the Caribbean, probably an old sugar plantation

The last bit of the ICW before it crosses Cape fear.
The biggest petrol pump we have ever seen - we saw a chum (container ship) heading toward this one.
I would have loved to watch the fueling operation but I had Cape Fear to cross, weird feeling sea movement. The tide was kind and pushed us along at a good lick in deep water
We passed a sand bar resting place to thousands of sea birds
The ferry service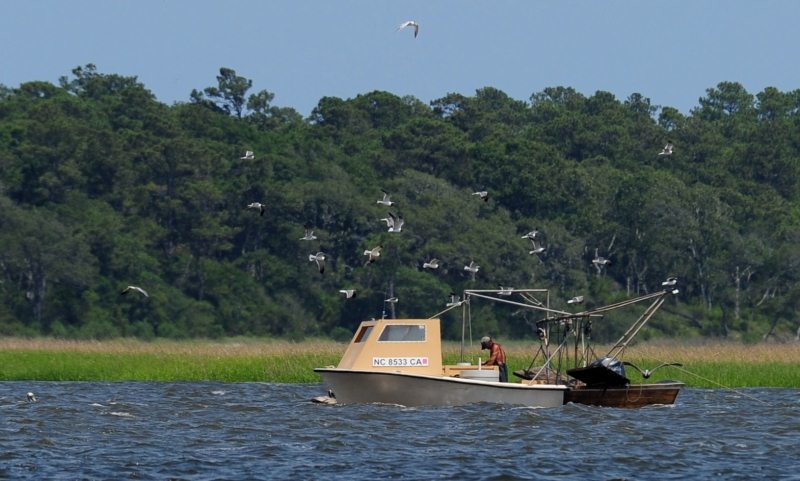 As we re-entered the ICW a few birds followed this local fisherman for a tidbit. After crossing we went through Snows Cut watching loads of Jellyfish float past - the size of side plates. Any idea of swimming off the back of the girl diminishing by the second. Still at the end of the cut, a quick turn right and in minutes entered the basin we would drop anchor; earlier today at a quarter to four due to the current always being with us.
The four sides of the basin we anchored in, a surprise to be in a built up area
A pretty evening
ALL IN ALL A VARIED DAY
LUCKY WITH THE TIDES, VERY SWIFT DAY
---