Fajardo

Beez Neez now Chy Whella
Big Bear and Pepe Millard
Tue 9 Feb 2010 22:30
Fajardo
We had been told that West Marine was the largest chandlery in the Caribbean, that got Bear to the Thrifty Car Hire shop here in the marina, faster than a speeding bullet. Car hired for a week, next stop about fifteen minutes down the dual carriageway, driving on the right, to find said chandlery. Two hours later, I am quickly losing the will to live. Bear in poor - nay non-existent Spanish has several kindly people direct us to all kinds of emporiums, nothing to do with said target. So bad was it that I had to be placated with happy food, must be bad, I needed a KFC. West Marine finally found. Bear gave the visa card a thorough spanking. All essential stuff, yeah, yeah of course dear. After a long mooch I finally got Bear out of the shop, several carrier bags in hand.
Quick stop at an ATM, I wandered off to see these blooms up close
We had packed a little picnic tea and went to find a beach. Sat by ferry dock and watched the world go by. The island opposite us has a small ferry shuttle every half an hour for the princely sum of one dollar. One "careful owner" sat in the middle of the bay.
This fine looking chap watched us watching him, he didn't take to the bit of ham sandwich on offer.
Sitting with the car windows open, I kept feeling like I was being stabbed with a very fine needle, acupuncture size. Then Bear asked me if I was being nipped as he was. Must be bad for him to get attacked. In the windscreen we saw loads of tiny flies, the size of a lace pin head (smaller than a normal pin). These bites hurt at the time, but the following day it felt like having the measles. Slatherings of Anthisan. We have since heard these tiny beasts called Me-Mar, She-sha, Ma-hi and bloody nuisances. The worst "No-See-Ums" we have yet come across. They don't care how strong the Deet is you spray on yourself, have a penchant for your feet and seem fairly indestructible, until squashed. They are at their zenith from 16:00 to 18:00 and the locals say you never get used to them. Great. Shut the windows, please Bear.
Back to people watching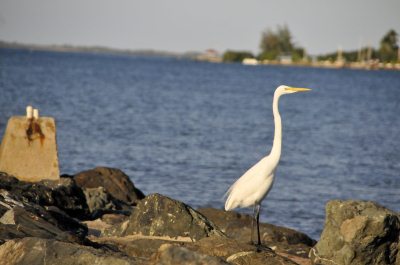 Meanwhile, our chap who had turned his beak up to a bit of ham sandwich was watching the same cast fisherman, hopped off and wandered down the road to see if their were any titbits
This is the Waldorf Hotel, opposite were we were, complete with round restaurant and vernacular railway to bring you down to the bustling seaside place below
The ferry service takes everything to Vieques and Culebra, this one had fuel and water tankers on board
Then it was off for a drive round before the supposed fifteen minute journey back to Beez ??? The local houses had the same bars and security gates we had seen in Venezuela. Up in the hills above town we saw this development, called The Ocean Club, one of several being built, offering apartments for $125,000 and up. There were very few cars in the car park and the bigger percentage were vacant. Full, the traffic into town would be horrendous as the road in, is thin and windy.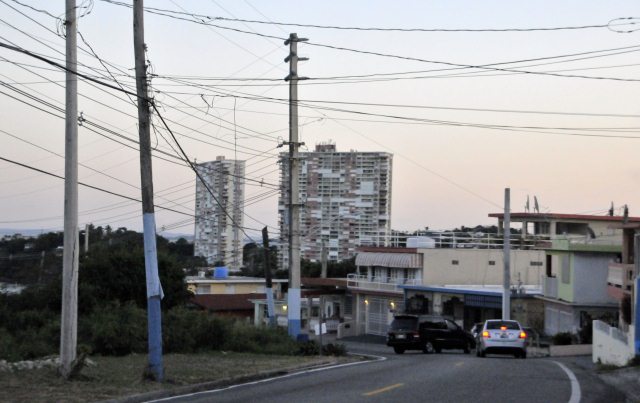 Uptown Fajardo
This is a local B+B. We had been told to book accommodation, not go on spec, so I know what my job is tonight, book onward for our road trip.
View of the island we had been opposite having our picnic
ALL IN ALL ENJOYED OUR FIRST MINI TATS IN PUERTO RICO - JUST HOPE WE FIND OUR WAY A LITTLE EASIER TOMORROW
IT'S DOWN TO THE NAVIGATOR YOU KNOW
SEE PEPE'S MOUTH PUCKER AT THE EDGES. WARNING.
HIDE BEAR HIDE
HAVE YOU EVER SEEN ANYONE BEATEN SAVAGELY WITH A LUNCH BOX
BEAR HAS. OUCH BEAR OUCH.
---