Day 4 to St Helena

Beez Neez now Chy Whella
Big Bear and Pepe Millard
Fri 31 Jan 2020 06:00
29:03.71 S 11:14.78 E
Day Four to St Helena
Well, I got up at ten and as is the rhythm of things prepare Bear's breakfast. Mixed muesli box from the cupboard under the sink was joined by his back up supply box which leapt to the floor, fortunately just a cup full threw itself across the kitchen. Great start and bad language so early in my day. Half a small bowl of the lovingly mixed muesli, on goes his spoonful of Trill, pawpaw from the fridge and a sliced banana to finish it off. A bit too wiggly for me to manage the milk so I lean out, Bear holds and I pour. Mmmm, that went well.... I filled my right Croc with the white stuff......Note to self – use a bigger bowl.
Backgammon which spread before and after lunch. I was far too ambitious doing Bear mutton pie (not quite defrosted since I got up), instant cheesy mash, petite peas (defrosted in a measuring jug and left to dangle from the apple basket for safety) and gravy (pre-made from the fridge left doing backstroke in the washing up bowl). Oven on, kettle on, going well. Peas and mash in foil alongside the pie – tick. However, after two all at the backgammon it was time for me to serve. I built a mash nest for the gravy and between Beez side to side movements somehow managed to assemble the rest. Gravy in nest last. Delivered to Bear who, on the first wave got a lap full of escapee gravy. I did myself five fish fingers as by now much needed happy food, after all that was too exhausted by my efforts to win. Five two loss. Growling very loudly. Tomorrow he gets egg mayonnaise sarnies with side salad all prepared seated in the cockpit...
The rest of the day went really well, off watches comfortably spent in bed and not too much fiddling with direction. There is always plenty of time to reflect on experiences, where we have been, favourite moments and what the future holds. Excited and very exciting.
Bear pointed out that Madagascar was not in red – quick update.......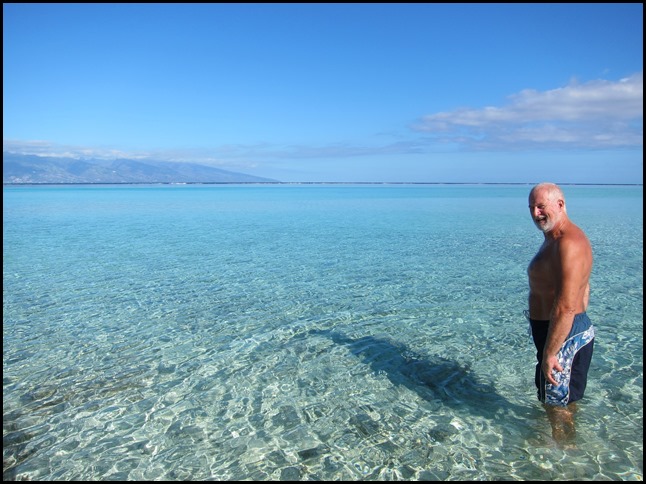 My favourite picture, to this day and since I took it has been my desktop background. The 27th of August 2013 on the island of Moorea, Tahiti in the distance. I asked Bear what his favourite pictures was. Oooo........
A never to be forgotten moment, you with the patient wavy albatross waiting for his wife to arrive. And I guess that's why every time I try to change this from our Facebook picture I get three faults AND a refusal........
Bear carried on reading Harry Bosch (Michael Connolly), whilst I listened to the new Nalini Singh, very good too.
At six we this morning we have covered 140.2 nmiles.
Total completed 477.6 nautical miles.
ALL IN ALL CULINARY CHALLENGES BUT LOVELY
A VERY COMFORTABLE DAY
---