Corkscrew Swamp

Beez Neez now Chy Whella
Big Bear and Pepe Millard
Sat 3 Mar 2012 23:57
The Corkscrew Swap Sanctuary
We did a boys touristy thing this morning so guess who could choose this 'arvos activity, en route to our next B&B and "it's such a lovely afternoon for it" – yes dear, what lens do you want me to carry. Corkscrew Swamp Sanctuary is a National Audubon Society sanctuary located just north of Naples, Florida. The sanctuary was established to protect one of the largest remaining stands of Bald Cypress (Taxodium distichum) and Pond Cypress (T. ascendens) in North America from extensive logging of the tree that was ongoing throughout the 1940's and 50's. The Corkscrew Cypress Rookery Association was formed in 1954 to protect the area. The National Audubon Society accepted responsibility for management and started constructing the first boardwalk through the swamp in 1955. In all, nearly seventeen square miles of wetland was purchased or donated (most from or by the owners, Lee Tidewater Cypress Center Co. and Collier Enterprises).
The Greater and Lesser Spotted Tourists hit the boardwalk that runs for nearly two miles provide walking access through (actually 'over') pine flatwoods, wet prairie, Pond cypress, Bald cypress and marsh ecosystems within the sanctuary.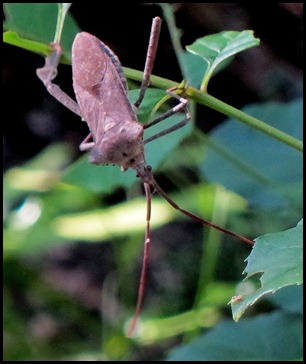 Our first area and really interesting information boards along the way.
The sanctuary is an important breeding area for the endangered Wood Stork and other wetland birds, and has good numbers of wintering passerines, including the Painted Bunting. Numerous wading bird species can be found in the wetlands including the Yellow-crowned Night Heron, Black-crowned Night Heron, Tricolored Heron, Great Egret, and Snowy Egret. Specialist birds include Limpkin, Barred Owl and, in summer, Swallow-tailed Kite. As such, it has been designated as a 'gateway site' for the Great Florida Birding Trail.
We saw stunning air plants, a young red shouldered hawk and the strangler fig that doesn't strangle at all
but the best was seeing a barred owl with an itch, shy then smiling
We saw most in our last area, the wet prairie. American Alligators and Cottonmouth snakes are prevalent here – Bear was delighted not to have bumped in to the latter. The last pictures can go to the babies in their great camouflage jackets.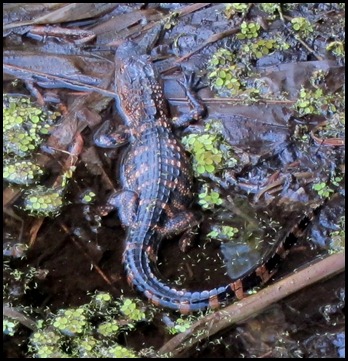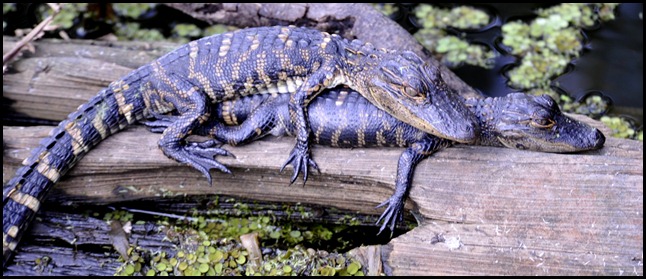 ALL IN ALL AN UNEXPECTED TREAT
.
---