Calouste Gulbenkian Museum

Beez Neez
Skipper and First Mate Millard (Big Bear and Pepe)
Fri 29 Aug 2008 22:10
Calouste Gulbenkian Museum, Lisboa.
We are not huge fans of stomping around museums but as this was in the 1000 places book, we hopped off the tour bus at stop number eight, paid our 4 euros to visit and spent a fascinated hour in awe.
Calouste Sarkis Gulbenkian was born in Scutari now called Uskudar, part of Istanbul ( one of the places where Florence Nightingale served as a nurse ) on 23-3-1869 into a family of Armenian origin. A pioneer of the oil industry, he played a major role in making the petroleum reserves of the Middle East available to western development. His father sent him to study at King's College, London where he graduated in Petroleum Engineering, he was also an exceptionally discerning and knowledgeable collector. He gave us the saying "Better a small piece of a big pie, than a big piece of a small one". He went to Portugal in 1942 as the Second World War raged in Europe. Gulbenkian spent the remaining years of his life in Lisbon and died there on 20-7-1955. When he died he was one of the worlds wealthiest individuals with an amazing fortune in excess of 480 million dollars. He left 420 million dollars to the foundation.
In 1956 the Foundation which takes his name was created, fulfilling his wish that the works of art that he had assembled over four decades should be kept together under one roof. The Museum is set in the Parque Santa Gertrudes and is a landmark in museum architecture in Portugal. With numerous openings to the exterior it offers visitors a continuous dialogue between Nature and Art.
His desire was fulfilled in 1969 with the inauguration of The Calouste Gulbenkian Museum. The museum's collection numbers over 6,000 pieces, the breadth of the collection reflects Gulbenkian's own preferences and the personal tastes which always guided him. I cannot believe how closely the mans tastes are my own, Art Nouveau, Illuminations, Furniture, Chinese Art and Jewels only a very few of the paintings I would need to give to charity. The coins did not come out well on photo, they were grouped in collections of the major Greek Gods (all my favourites).The oldest artifacts were from 2700 BC Egypt, preserved in computer controlled environment at 23 degrees, were awesome. Too many photos to put on a blog but the museum has its own website
www.museu.gulbenkian.pt
The photo to prove "I woz ere". Me and Diana, goddess of the hunter, by Jean-Antoine Haidon (1741-1828). Paris, 1780, in Marble.
Bear said "We had a carpet just like this at home" "Yes, but yours wasn't made in the early 18th Century"
The Chinese collection was amazing, just reading the dates some of the pieces were created showed what craftsmen they were. The Illumination that caught my eye was this one painted by the disciple of Master Giovanni da Gaibana, produced between 1265-1273 in Italy on parchment. The colours were still perfect and the lustre of the gold untarnished. The solid gold and silver table decorations were just magnificent. Many of the pieces in the museum were bought from Hermitage in St Petersburg when the Soviet Union needed hard currency.
Centaurs for those who know me, hold a very special place in my life ! This is a love scene that I was so engrossed in, I forgot to see who it was painted by. Peter Paul Rubens ( 1577-1640 ), painted Helena Fourment in Flanders c. 1630 in oil on wood. One of the museums many scenes of Venice by Franscesco Guardi (1712-1793), this one painted c. 1770, oil on canvas, Venice is of course where I took Bear for his 50th birthday, so it holds very special memories for both of us.
When we went to see the Mona Lisa in Paris, we had to stand a long way back behind a fence, guards were each side to spoil the appreciation of her and we left disappointed. Here we could wander up as close as we liked, could take as much time; photograph, so long as it was without flash and the guards, although present did not interfere.
Another favourite of mine ( for my brother Pete ) is this piece called "Brother and Sister" by Auguste Rodin (1841-1919 ) France after 1891 in bronze. I have always loved mythology, the naughty Satyr ( one of the woodland, drunken God's ) with his lower body of a goat seen here tempting a lady with a bunch of grapes made us smile. The wardrobe is by Andre-Charles Boulle ( 1642-1732 ) made in Paris c.1700 in oak, exotic woods, tortoiseshell, bronze and brass was quite stunning.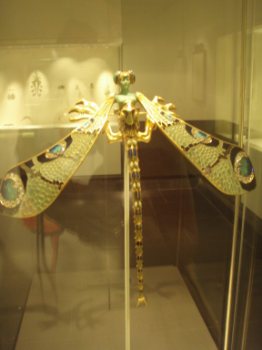 This is of Madame Claude Monet painted by Pierre August Renoir (1841-1919 ) France, c. 1874, oil on canvas. We didn't go into why an artist was painting a picture of his friends wife ? but we do wonder ?
The Dragonfly signature piece of Rene Lalique, a personal friend of Gulbenkian, made between 1897 and 1898 is in gold, enamel, chrysoprase, chalcedonias, moonstones and diamonds. More Lalique works.
We are so very pleased we jumped off the bus and experienced the treasures up close and ticked another page in the book.
---