Shanghai to Beez

Beez Neez
Skipper and First Mate Millard (Big Bear and Pepe)
Thu 24 May 2018 22:57
Shanghai to Beez
We left the Maglev train and took the escalator up to Departures. We needed to check in at B, a very long bimble. We got in the long queue and waited fifteen minutes for the ground staff to begin the process, plenty of time to people watch as case after case was opened on the floor and 'rummaged in'. The only huge pleasure was the fact that no one held an umbrella aloft, we can relax. An hour later we were clutching seat tickets and with G and H we assumed we were next to each other. Air Asia is cheap but you have to pay for your seat choice, about eight pounds each.........
Immigration was painless, why we needed two pages next to each other..... all we had was a discreet red stamp, mine in a small corner nowhere near my Visa and the same for Bear.......... Once through security we had a very long bimble to our gate, the very last one. No peace as a woman sat behind us with a shrill, nasally voice who shouted across the room to her friends. Great, at midnight when my stomp measure clicked over to zero I took the opportunity to march up and down the whole area and got in four thousand before loading. The Chinese ability to queue jump proved yet another irritation but there we are. Up the back of the aeroplane, hand luggage stowed we found our seats were each side of the gangway. How cross were we. Two friends were also split and a nice young man moved so they could be together and he kindly swopped with me so we ended up together.
We sat for a while as the full flight loaded. I don't think we have looked out at such a long airport building in a very long time.
We took off more or less on time at 01:20 for the six hour flight to KL. Not a bit sorry to leave Shanghai behind.
The first time we have ever been on a night flight when the lights were only dimmed at take off and landing. Bear found a way to block some of the light with his 'doughnut'. As we came in to KL the sun was getting his hat on.
Painlessly through Immigration as always, we had an hour or so to wait for our nine o'clock bus, settled in the back two seats as is our 'norm' we slept pretty well and arrived in Sitiawan at 14:00. We asked our taxi driver if he would mind waiting an hour outside the supermarket and he was quite OK as he had some personal shopping to do. Fifty minutes and the weeks worth of shopping we need until we set off again, we were pulling up to Beez around half three.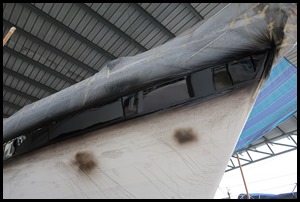 A quick circum-ped around the girl and we do believe her paint job is done. YAY and thrice YAY. I think it was about her eighth attempt and we will have a good look once rested but we are very hopeful. All well on board. Unpack shopping, hand luggage and grab smellies from case. Make up the bed, have a shower, chicken salad and settle to a couple of episodes of Longmire until the eyes needed an early night.
ALL IN ALL VERY LONG TWENTY FOUR HOURS, SO GOOD TO BE HOME
A VERY LONG DAY THAT WENT WENT SMOOTHLY
---