My Son

Beez Neez
Skipper and First Mate Millard (Big Bear and Pepe)
Sun 7 Jan 2018 23:57
My Son
We arrived at My Son, saw the UNESCO Listing sign, passed a resting oxen and walked a short distance over a bridge.
We rode in a buggy for the two kilometres to the site. At a seated area we listened to our guide, Thai, had a look at a model of the site and set off to explore.
My (pronounced Mee, meaning beautiful) Son (rhyming with gone, meaning mountain) is and was o
ne of the most important Hindu sites in Southeast Asia (certainly in Vietnam) and one of the longest to be inhabited. My Son
is a group of partially ruined

Hindu temples

constructed between the 4th and the 14th centuries by the kings of Champa. The temples are dedicated to the worship of the god Shiva, known under various local names, the most important of which is

Bhadreshvara

.
At its zenith there were seventy-one temples, many used as burial tombs for Cham kings and national heroes. The temples are in a valley roughly two kilometres wide that is surrounded by two mountain ranges. Heavily carpet bombed by the Americans, many temples were destroyed in a single week.
In 1999, UNESCO recognised My Son as a World Heritage Site, an example of evolution and change in culture and as evidence of an Asian civilisation now extinct. In regards to importance My Son is rated along with Borobudur in Indonesia, Angkor Wat in Cambodia, Bagan in Myanmar and Ayutthaya in Thailand.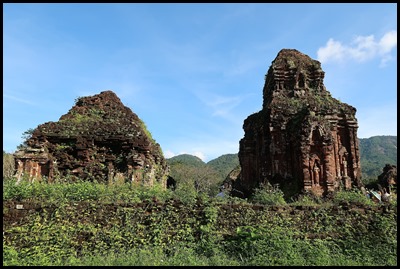 Information boards read: Group C temples. Together with Group B, this was a complex of monuments for worshipping the God-King Srisanabhadresvara. The major temple C1 was rebuilt in the 10th and 11th centuries, dedicated to the human statue of the God Shiva. (This standing statue of God Shiva is exhibited in Da Nang Museum of Cham Sculpture). This was the only temple with boat-curved roof with parasols covering the altar and walls without patterns, which was typical for Cham architecture after the 11th century.
C2 (10th and 11th centuries) was the only tower-gate with interior decorations, indicative of how Cham temples structure changed from wood pillar to brick. Four bricked-posts at each corner with their upper parts bigger than their lower parts indicate the change from wood pillar to brick pillar. Storage C3 (11th century) had two rooms which was designed for the technical reason, bearing the tower C7 gives solid evidence of the development of Champa temple architecture.
D2 (11th and 12th centuries) bore the same structure and functions as that of D1; which was a place for meditation and praying of the C1 temple.
Located in the South of My Son, Sacred My Son Mountain/Mahaparvata or Rang Meo is special for its shape as Garuda Sacred Bird – the God for peace and wealth. The Sacred Mountain is a landmark to located My Son Sanctuary. It can be seen from any directions from land to the Sea of Amaravati Champa Kingdom (which is now Quang Nam Province).
Group B temples consist of outstanding structures of Hindu temples including major temples, satellite temples and small temples. The main temple B! was the biggest in My Son. Steles dated 11th – 13th centuries were found in Group B showing the date of this group and that the temple has been continuously strengthened until the mid 13th century.
Temple B3 (dated 10th century) was typical of Champa architecture with square surface, three-storey roof and walls ornamented with deva figures protecting the temple.
Temple B4 (dated 9th century) was typical of Dong Duong Style, with twisted patterns carved on the walls. Two statues of the Gods Skanda and Ganesa, sons of Shiva and Goddess Parvati were found in Group B by Parmentier (a French Archaeologist). These two statues might have been worshipped in the temples B3 – B4.
The tower of fire B5 (mid 10th century) might have been a location to store ritual objects or keeping the sacred fire. Its main door opened to the north, direction of the God of Fortune, Kuvera. Two arches above the windows bore the two reliefs describing a male elephant fighting against a female one. These two reliefs were symbols of the Goddess of Beauty and Wealth, Gaja-Laksmi.
Sacred water tower B6 (11th – 12th centuries): Inside the tower was a sandstone water tank ornamented with lotus-leaf patterns. Water was brought from a spring originating from the sacred Mahaparvata for the dust washing ceremony in the temple B1.
Temple B7 (in the 10th and 11th centuries) belongs to a system of seven small temples from B7 to B13 worshipping seven stars including Sun-Moon-Metal-Wood-Water-Fire-Earth. The God of Sun/Surya was worshipped at temple B7. Other temples have been damaged by wars.
D1 (mandapa) (10th century) was part of Group B, despite being named D, Parmentier's mistake in the early days of his studies. D1 was a place of meditation or ritual dancing.
Our guide described the sacrificial table to us. The linga represents the male organ and the yoni being the female. Water was poured over the linga then milk which mixed together and poured out of the drainage channel of the yoni.
We entered B1 and saw a special table below which a king is buried, the ceiling was high, the brickwork close.
Artifacts and a couple of bombs in the biggest temple in Group B.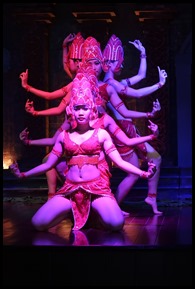 We enjoyed a cultural show before carrying on.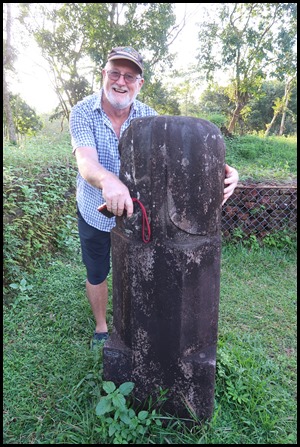 Group F Temples (8th and 9th centuries). All around this area are bomb craters, such a pity as these temples are historically important..
Sad to see a warning sign not to enter the area behind the 11th century Temple K due to unexploded bombs.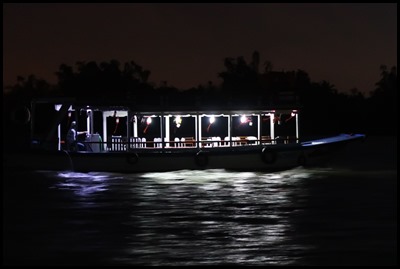 Back on a buggy, on our coach, we saw a motorbike towing a specially crafted pig carrier, transferred to a ferry back to Hoi An, bimbled through the night market and back to our digs after a thoroughly enjoyable day.
ALL IN ALL TO HAVE STOOD FOR SO LONG AND TAKEN SUCH A BATTERING
VERY OLD AND VERY INTERESTING, SHAME ABOUT THE BOMB DAMAGE
---