Submarine Present

Beez Neez
Skipper and First Mate Millard (Big Bear and Pepe)
Fri 28 Nov 2008 19:14
Submarine Present
Thursday we really got stuck into our prep jobs on Beez. Friday we got up and as neither of us have ever been in a submersible, (although we know quite a bit about them from Miffy, the Royal Navy Submariner) so we booked on line to get 15% discount from the 52 Euro price and said the 44.20 Euros was our Christmas present to each other. It feels very festive here at the marina now with all the lights and Poinsettias about the place.
After a safety briefing we walked to the submarine pontoon. Bear settled, the rear of the boat and behind me a tourist with razor sharp intellect, our guide told us when we rested on a shelf at 30 meters "to watch out for a fish in glasses" razor sharp said to his wife in a certain accent "I bet he means a diver" indeed one fed the fish for us to see a gaggle.
The bottom of the harbour as we left. Out to sea. Compliant fish.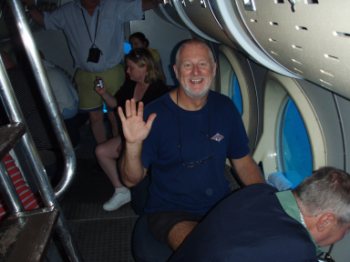 I went forward to picture the "Flight Deck" Skipper to the left, just resting us down for the feeding show, First Mate had said he was going outside for a fag???. Instrument panel and returning a photo of Bear sitting beside our viewing window.
Designed and built in Finland, Sun Fun Tres is Spanish registered. Costing approx 3 million Euros she is 18.5 meters long, 4 meters wide and 6.5 meters high. Total weight 106 tonnes. Maximum operating depth 60 meters (I know Miff, not in your league). Capacity 48 passengers and crew. Viewing is from 22 - 11 per side (800mm diameter) viewports. There are 1600mm large viewports, one at each end. You see Miff submarines CAN have windows !!! Even if it's not right. "Keep taking the tablets Bear". Propulsion 6 x 15 k/watt electrical motors providing 3 dimensional movement. Safety features - all systems are duplicated. Surface control boat maintains constant contact with the sub. People rarely feel seasick due to the smooth motion of the journey. NOT for the Claustrophobic though. Dive time 50 minutes just into the dysphotic zone at 50 - 1,000 meters.
Usual fish to seen are Wrasse, 2 banded Bream, Octopus, Sting Ray, Cuttle Fish, Guelly Fish and Bogues. We saw urchins, many Barracuda, an Angel Shark, Parrot Fish (male and female), Garden Eels - that can poke out up to 1.5 meters, grey and red Mullet, dusky and Island Grouper, Sandsmelt and Sea Bream. The strangest thing is NO seaweed or plant life of any kind, this area will be barren for hundreds of years to come because of the 'recent' in terms of history, volcanic activity.
A very different view for us to see underneath a boat as we are going along. Bear back into the sunshine again
Someone wanting to keep their craft floating but dry. We waited ten minutes to see the next trip out, Skipper supervising and looking very chuffed with himself.
I still cannot get over the fact that the first manouvre I did getting into the marina was to go round the sub, Bear missed it completely. Next it was back to the office to do the Grockle thing, get the photo and certificate.
Still feeling festive we went to celebrate 6 months away (actually on 6th December but likely to be at sea) with pasta lunch and Champagne Strawberry Grenandine. This Ring-necked Dove, sitting above Bear waiting for tidbits.
No matter where we are a cat will always find Bear "You are a proper pussy-magnet, you are" Keeping absolutely silent after the last Janet and John episode, the photo looks like I am inspecting my hand cuffs again. WATCH OUT BEAR - SEE DANGER SIGNS, Bear hastily pours another glass for Pepe and just about gets away with it !!!! Walking back to Beez past the shops. Water feature with marina behind. First time I had ever seen a bra at 350 Euros, some of the shops are 'top drawer' with prices to match, the usual marina sorts - Helly Hensen, Hugo Boss, LaCoste, Raymarine etc.........
Nipped into our local supermarket for a bottle of Grenandine, Just to continue the mellow festive feel, you know and some Cava at 2.40 Euros. A lad threw in one chunk of bread and the grey Mullet looked like boiling water. Pigeons about to rest on the black sand. It's wrong I tell you. "Don't start that again, no goats you'll be fine, just keep drinking and maybe the pink elephants will come to see you".
All in all a smashing afternoon break from chores.
---