To Biei

Beez Neez
Skipper and First Mate Millard (Big Bear and Pepe)
Fri 20 Oct 2017 22:57
A Visit to the Small Town of Biei
We boarded a little push-me-pull-you and rode for about forty minutes. Bear loving it.
The rail runs down the centre of a fertile plain – mountains each side. Bear pointing to where we are.
I loved one of the posters in the station and found where we were on the map.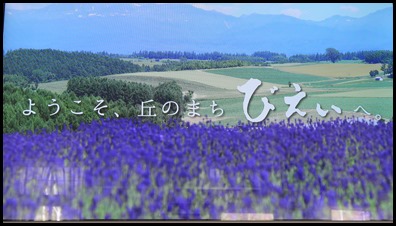 We stood and watched a loop of the photo gallery in the station – hard to picture this sunny place being covered in snow. This whole area is famous for growing lavender, expected uses include oil, pillows, scent but we haven't tried it as the main ingredient in the local ice cream, the colour alone is just plain weird.
First, the serious business of collecting a stamp in our book before heading out of the station to admire the clock opposite. Many lamp posts told us we were indeed in a pretty place. Biei
is a small

town

(population 10,374 in 2016) located in

Kamikawa Subprefecture

,

Hokkaido

.
The town is famous for its views of wide fields and hills, and is used as a backdrop for many Japanese commercials and TV programmes. The bright colours of its fields attract thousands of visitors in July and August.
Every Post Office we have seen so far has the English below. A tree that had just lost it's leaves made for a lovely golden carpet below.
We saw some very square houses, every single one with a snow shovel in the porch, then our first acer.
A shrine complete with bell and traditionally shaped plantings.
A water feature next to the Town Office.
We bimble away from the town dressed in autumn colours and follow the river.
We get to the edge of the lavender fields as the mist spoils our mountain view.
Snow covered Mount Tokachi, the next mountain on the right is Mount Furano.
We head back into town and enjoy the last of summer colours.
We have our first experience of getting a hot and a cold drink from the same machine and settle to drink........
..........with a delicious éclair each.
We pop into the 7-Eleven for pot noodle supper – not ready for anything hot from the counter – especially the frilly flip-flop.
We wend our way back to Furano finding Red Bear exactly where we left him.
ALL IN ALL A BEAUTIFUL BACKDROP OF SCENERY
INTERESTING AND A PRETTY LITTLE TOWN
---