Pizza Night Fun, Crater Bay

Beez Neez now Chy Whella
Big Bear and Pepe Millard
Fri 6 Sep 2019 23:57
Pizza Night Fun in Crater Bay
This lady came in this morning filled with grass fencing panels to be unloaded and later to be loaded with roofing fronds.
She passed our Dutch neighbours. Then a big girl came in.
After lunch we went ashore for a bimble in search of fruit for Bear's breakfast. Dinghies being prepared for a sailing lesson.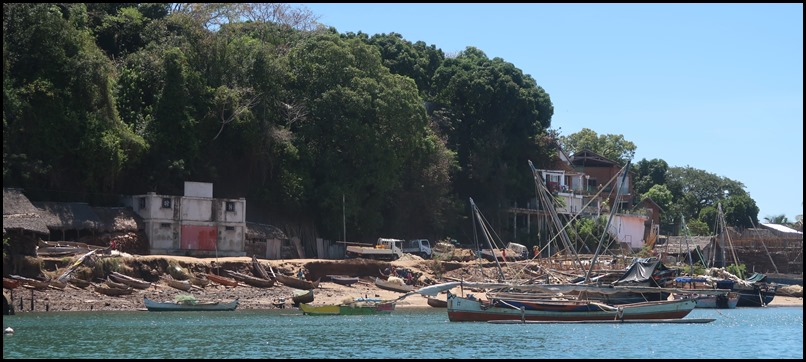 Lots of activity at the local dock, sand being taken off and loaded onto a lorry.
Roofing fronds were being moved and counted into neat piles.............
..........stacked onto the lady we saw this morning.
Wood yard.
A 'one careful owner' trailer and pakpak being fried.
A clothing shop.
A local house.
We nipped home with Bear's bananas, some tomatoes and cucumber, quick shower and ashore by four for 'happy hour'. Pizza night began with Maria (Serafina) and Kimi (Slow Flight) posing. Soon, the really excellent local band was in full swing. The lead singer treated us to some wonderful bottom wiggles, fast moves and an arabesque all the while balancing a bottle on her head.
Later, the lovely lady sold us a CD of their music and posed with the girls.
Not being able to eat pizza I was more than happy with my delicious honey roast pork chop, Bear had seafood pizza. Two big beers, a large bottle of water, ten rum cocktails each (only small glasses and things evaporate so quickly here.......), tip and our food – eighteen pounds. Sterling night out.
Maria posed with Olivia, owner of the Crater Bay Yacht Club Restaurant. Then, a smashing surprise. Laura (Neptune's Highway) was heading out in the morning so not around for Kimi's birthday on Sunday. Total fluster and all over unnecessary, a few tears too whilst opening Laura and Bruce's gifts. Handmade bag, rum, and a Seattle (Kimi's home) cap. Fantastic to watch and, watch this space for Sunday at the roast.........promising to get messy for a certain 'birthday girl'. Laura would later put a video of the band on FB with the comment, "Delighted to be in Madagascar enjoying a Friday night with cheep beer, priceless friends, and a local Malagasy band". Very well put.
ALL IN ALL CRACKING NIGHT
FABULOUS FUN NIGHT
---