Percy Sunset

Beez Neez
Skipper and First Mate Millard (Big Bear and Pepe)
Tue 24 May 2016 22:57
Sunset at Middle Percy
After our wonderful visit to the homestead, we raced home at four, changed, gathered some bits to BBQ and rushed back to the A-frame. Light was falling and by the look of the clouds we could be in for a corker of a sunset. There were about eight sets of crew and Steve from the treehouse who showed us all a short film about the history of the island. More people arriving and Beez against the pretty sky.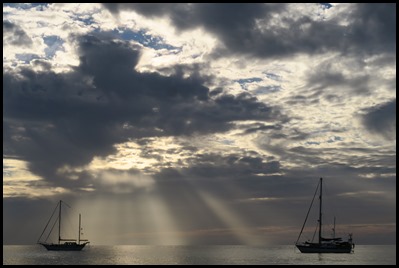 We had crepuscular rays for a change that soon began to fade.
Just before the rays went.
Then we had to wait for the sun to begin to drop.
What a treat when the sun did appear below the clouds.
Then for the pinks.
The fiery reds, the low clouds looking like sweeps of blur.
Tonight was a double-whammy – we had a second set of pinks instead of one, and finally a couple of mess-abouts to close.
ALL IN ALL PURE MAGIC
ABSOLUTELY STUNNING
---