Beez Haul Out in Jolly

Beez Neez now Chy Whella
Big Bear and Pepe Millard
Fri 3 Apr 2020 23:57
Beez Neez Haul Out in Jolly Harbour, Antigua
We woke at five, enjoyed breakfast on the patio and whilst I put some washing on Bear got Beez ready for her little move. We pulled off our dock at ten to seven at a very slow spuddle speed. We had to be at the travel lift by a quarter past but we could see the lift had a boat in the slings. Mmmm. I took a gentle arc onto the fuel dock and Bear secured us. The hope then was that our haul would be delayed until after eight and we could fill up with diesel. Not to be, the boys were ready at ten to. Very strange, I was asked to do nothing as the boys wanted to pull her in to the haul out dock. I had to stand by to go ahead when we got close to the back wall. We stood with hands out to mark where the strops should be and the deft crane driver soon had them in the correct place. We were handed bits of cardboard box to tuck between Beez and the strops to cushion and protect her paintwork. That done, we hopped off and slowly, up she came.
Bear adopted the 'worried dad pose' as I have seen so often before but, a dirty girl was slowly appearing.
Just look at those naughty barnacles, not too many and very few at the front.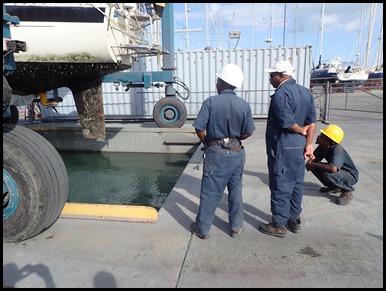 Ooo I wonder if the scum marks will wash off easily. The men were incredibly careful with her.
All the way up and then she began to move backwards.
Considering her back end – her front end looked really quite black (antifouling left, amazing).
As a lovely chap started to scrape, Lindsey (the yard manager) came over to chat. He was amazed at our story, of being at sea for 35 days and coming in to a new and sad world riddled with Covid 19. He asked if I had been to the supermarket since the lockdown. No I replied. "Well if you need anything I suggest you join the queue now and you might be out of the shop in a couple of hours." I left Bear to it, with the camera and joined the long line at twenty past eight. All the way along the length of the shop and out in the sunshine. I've never been much good at standing, so I was pleased when I got next to a pile of beer crates and promptly plonked one on the floor as a seat. Each time a few were let in the shop and the queue moved along, I stood, pushed my crate forward and sat once more. Pleased I had my breakfast carrot with me. I finally entered the shop at twenty to ten.
Excited to see Bear's pictures. Wow, the line between dirty and clean. Very clean.
Oh what a great picture. I can even make out a rainbow in the pressure washers spray.
All done and off she goes, around the corner.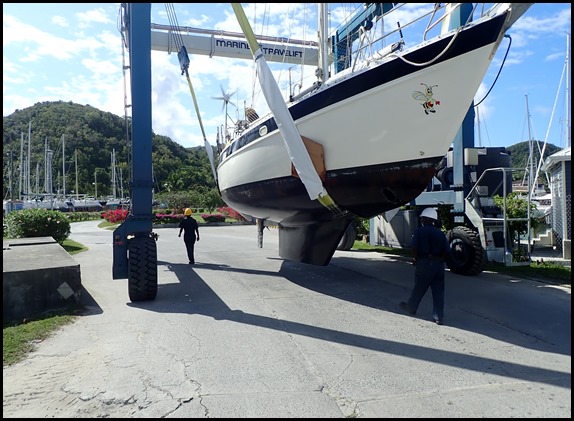 Bimbling along.
Another cracking picture, love the shadows.
Some of the girls Beez passed have been hauled so their owners could fly out before air travel was cancelled. Ronda the insurance lady was kept very busy providing local cover as most insurers will not insure against hurricanes or named storms. Beez trundles to the far corner, her new friend and neighbour is called Sea Lion IV from Vancouver.
Safely lowered into her hurricane cradle, Lindsey said he would add and weld in place six more stands at no extra charge, how lovely.
Access ladder tied in place and off came the strops.
All settled and happy. A huge relief Beez can now have a proper rest. When lockdown has finished we can visit and work on her between 08:00 and 18:00. We have no idea when we can ship much needed parts in but Bear has organised Ivan to service the outboards, Ashley to do the rigging and a number for Jessie to do any painting.
After saying farewell and see you soon, Bear left Beez to room in with her new friends.
ALL IN ALL SO PLEASED SHE IS SETTLED
SHE CLEANED UP WELL AND LOOKS HAPPY
---