Nyaung Shwe Bimble

Beez Neez
Skipper and First Mate Millard (Big Bear and Pepe)
Mon 4 Dec 2017 23:57
Nyaung Shwe Bimble
After settling in our room, I climbed on the bed and examined our expenses, well within budget for this trip, so we only needed to find a little extra. The big question was could we justify another balloon flight and so soon after our amazing one over Bagan. After much gnashing of teeth and taking into account our discount, I may just have to forego new settee covers for Beez. No huge sacrifice when looking at Bear's expectant face and his delight when I said we could bimble to the office and book it for the day after tomorrow. He was out the door like a racing snake. Down in reception we booked a boat and driver to take us all round the villages and sights of Lake Inle for eight o'clock on the morrow. Next door but two to our digs is this rather splendid building.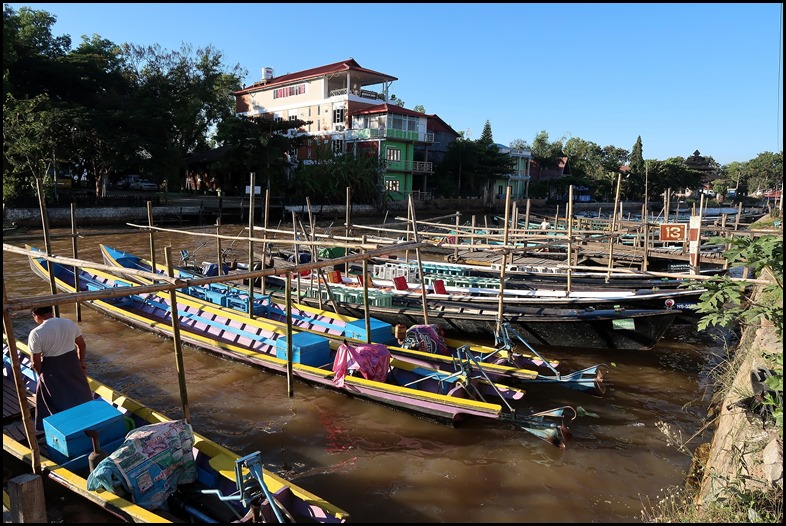 Passing the longboat car park.
In the balloon office a very sweet young lady dealt with us. On the wall was a lovely picture of the pagoda next to the launch site with a balloon and an Intha fisherman but next to it was a truly special sight – a balloon landing on a boat, well actually two longboats joined together by a wooden landing pad, now that really would be spectacular...........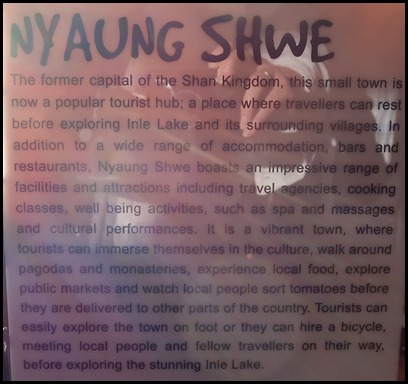 Opposite, in the Tourist Information Office we learned about how to be a good tourist from a poster that included 'No kissing or public shows of affection', right then. There were lots of snippets about various villages around the lake and this one about the town.
A really fun cartoon.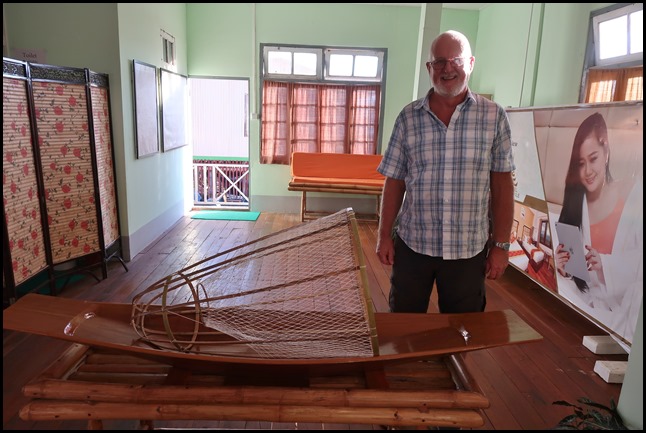 Bear poses next to a model of the type of boat the Intha one-legged fishermen use, so hoping to see some tomorrow. How they manage to balance on one foot on the tiny platform and push the oar with one leg beggars belief.
At the back of the building we looked out over the far longboat car park and loved this picture, a young lad shading himself from the hot afternoon sun, enjoying a rest.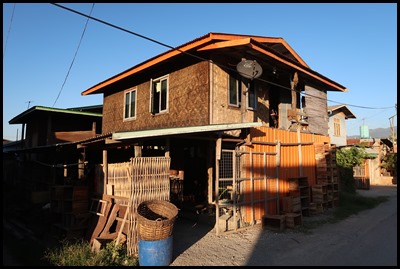 We bimbled down some side streets and popped out onto the high street looking for an eatery. Some very usual looking houses.
I bet this tired old bike has a story or two to tell.
Bear chose a cosy Indian run by a wild young man, dad Burmese, mum Nepalese who was also the cook. Stunning food. We had a Sprite, beer, chicken korma, aloo, two rice, butter chicken and couldn't believe the price was only seven pounds.
Back past the longboats, time for an early night.
Our digs, OK one nightcap on the roof terrace.
Views from the top, quick sherbet and time for bed.
ALL IN ALL WHAT A PLEASING LITTLE TOWN
EXCITED AND HAPPY
---