Ranthambore 2 - Jay

Beez Neez now Chy Whella
Big Bear and Pepe Millard
Wed 17 Apr 2019 22:57
Safari Number Two, Zone Six in the Ranthambore National Park
We settled in the foyer of our digs at two and reception said "No, two-thirty". Back at two-thirty to watch the boys mow the front lawn. Our jeep arrived at three with a guide, driver and two passengers, a lovely couple from Colombo, Sri Lanka. We sat together in the back and nearer town we picked up two smashing chaps from Manchester, one was a British-born of a family that originated from the Punjab – very, very useful later on as our interpreter.
By twenty past three we were at Zone Two check-in and soon in pretty scenery.
We passed through one of Ranthambore Fort gateways.
We raced along the track and six minutes later got our first look at Jay. There were lots of people looking at Jay.
Lots and lots of people in jeeps and lorries. Over the next three hours we jostled for position, moved, watched as vehicles bumped, drivers shouting at one another, one getting stuck in a rut and everyone on board sitting on the bonnet as counterweights (they were careful not to set foot on the ground). People who had paid more money were in government vehicles and stayed put. It was more of a zoo than most animal enclosures. Jay is a three year old who has a twin called Virol. If Jay twitched a thousand pictures were taken on rapid fire shooting, between the two of us we took 173 pictures......... The reason we all stayed put, drivers ready to move in a second, was the assumption Jay would bimble leisurely over to the pond to cool off – however, yesterday was unseasonable cold and it had rained all day. Had it been forty degrees Jay may well have moved but no, all he did was roll over, stand, stretch, reposition, turn over, stick his paws up a small tree and eventually plod twenty feet only to plop down once more. He did hear something, we did wonder if it was his twin some distance away, after yawning he bimbled off to find a nice spot to settle for the night. We were both elated to finally see a tiger in the wild and here are the best shots of the afternoon.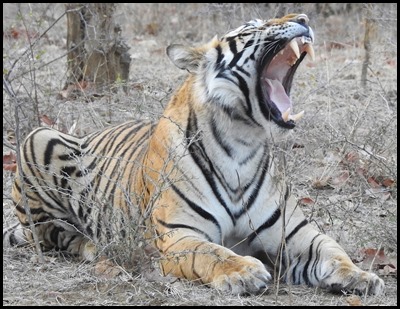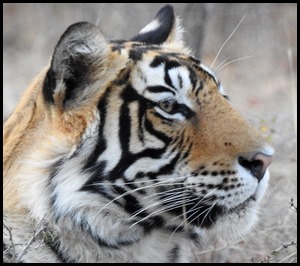 ALL IN ALL AMAZING TO WATCH JAY
BRILLIANT TO SEE A TIGER
---