Day 2 Leapers

Beez Neez
Skipper and First Mate Millard (Big Bear and Pepe)
Tue 7 Jul 2009 20:20
Leapers Hill
Driving to the north of the island we went in search of Leapers Hill. North of the town of Sauteurs is a steep cliff face that descends vertically for more than a hundred feet. This historic landmark is where the remaining Carib Indians leapt to their death rather than surrender to the French in 1651.
"Parking" was a rather optimistic claim given the width of the entrance road - perhaps it only refers to bicycles!
The story goes, the French gave the Caribs a few bottles of Brandy and some beads in exchange for the right to settle in Grenada. When the Brandy was finished and the Caribs grew bored with their new shiny trinkets they attacked and killed several Frenchmen. The angered French decided to wipe out the Caribs. The Caribs last stand was refusal to surrender and instead leapt over the precipice. The French called the place Le Morne De Sauteurs, meaning Leapers Hill.
We paid our £1.25 each to enter the very smart Interpretation Centre.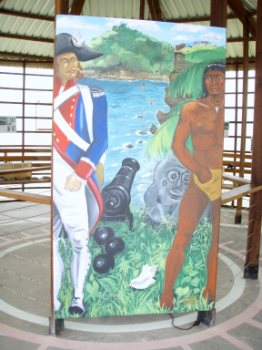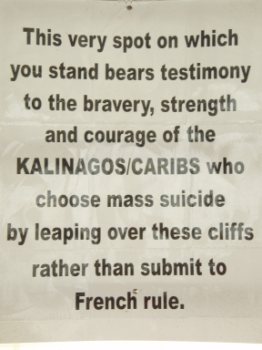 There are Carib artifacts, paintings and information
A model of a Carib Village
A look out platform has been built over the spot where the remaining forty Carib Indians jumped to their death. Bear looking out to sea and taking in the rough beauty of the place
The steep drop down to the sea
Sauteurs - the town around Leapers Hill. Next we drove on to Munich
Munich is a special village because of the history of its origin. It is said that in 1807 a slave ship set out from the coast of Africa. While it was still on the high seas, the slave trade of Grenada ended, so when the ship arrived in 1808, the "passengers" became ex-slaves. These free persons established a free village in what is now present day Munich. As keepers of the drums, they alone were allowed to have the "talking drums" of the Nation Dance, a sacred celebration in homage to the ancestors of the dispersed African nations. To this day, the residents of Munich grow manioc (cassava) and prepare it in the traditional way in the coppers, large pots used in plantation days for boiling cane.
This village has its own particular rhythm and beat. It is said that the tune for the song Amazing Grace hummed by the slaves on the slave ship was instrumental in the conversion of the captain, John Newton, an English slave trader, who not only wrote the lyrics after surviving a violent storm at sea, but also ceased to trade in slaves.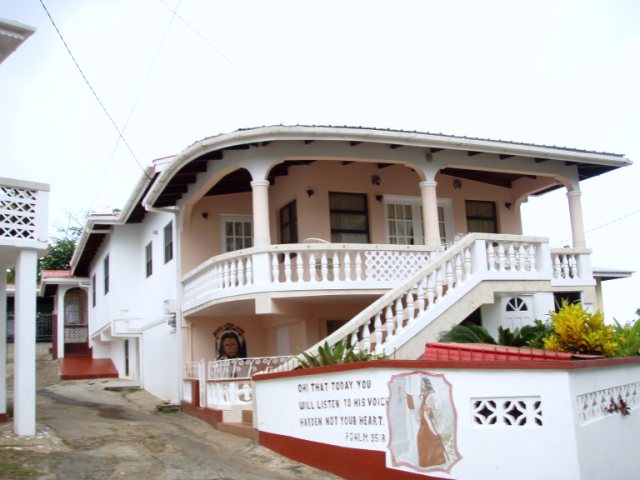 Driving through Munich there is a huge variety of houses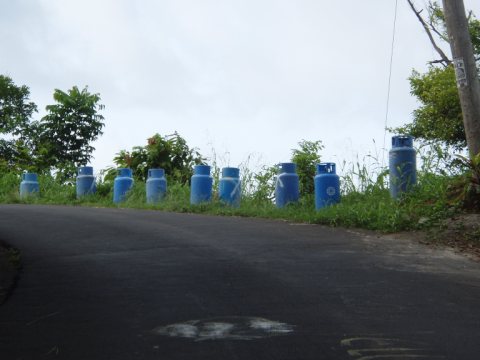 Bear particularly liked the gas cylinders that marked the edge of the road - great crash barrier, there was a sheer drop the other side of them. I liked this little Berger Paint home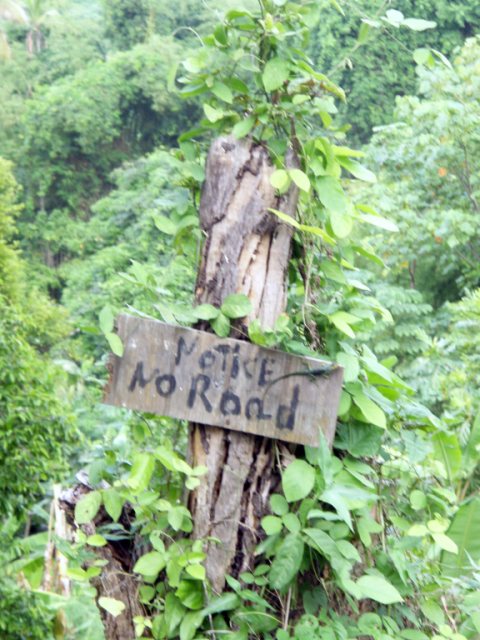 We were in fits when we saw this sign off the side of the road. Behind it the world seemed to disappear a very long way down
The view to the sea from Munich
ALL IN ALL A VERY INTERESTING
---