Penang Hill Temple 1

Beez Neez
Skipper and First Mate Millard (Big Bear and Pepe)
Tue 29 Nov 2016 23:27
Sri Aruloli Thirumurugan – better known as

Penang Hill Hindu Temple, Part One
At the top of Gun Hill we looked to the corner and there was a lovely little temple.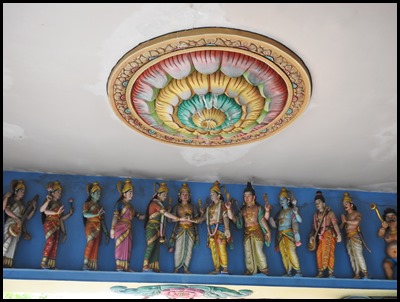 We found the shoe rack and stepped into the porch, looking up as we did so.
Sri Aruloli Thirumurugan
, or better known as the

Penang Hill Hindu Temple

, is one of the oldest Hindu temples in Penang. It started off in the 1800's as a small shrine to the Hindu deity Murugan -

the deity associated with Thaipusam - by the Indian sepoys and sedan chair carriers, and is located at a mount within Penang Hill called Gun Hill. A trident, or Murugan Vel, was installed there by the devotees. Over the years, it was enlarged and rebuilt. The present-day incarnation of the Sri Aruloli Thirumurugan is a very ornate Hindu temple in the Dravidian architectural style of South India.
The Dravidian style of constructing Hindu temples calls for four principal parts. The temple proper, or

vimana, is the shrine with a tower, a

mandapa, or porch,

gopurams, or gate towers, and

chawadis, or pillar halls. In addition, there would usually be a tank of water for use in sacred rituals or for cleansing.
An attractive pair of chaps guarded the main shrine of Sri Shanmu's Father and another chap looked on from the side. A bird sat quietly watching all.
To our right a large tableau.
We knew Ganesh on the left.
A lovely lady on the far right complete with Beez coloured floral band.
The far back left of the temple was devoted to Vinayagar.
The far back right was devoted to Idumbar.
Looking from the back by Idumbar. The ornate, folded back doors.
---