To Sri Lanka 1

Beez Neez now Chy Whella
Big Bear and Pepe Millard
Thu 21 Feb 2019 10:00
Off to Trincomalee, Sri Lanka – Day One
Up at half five, emails, banking etc done, then it was cooking carbonara and sweet and sour chicken – the rice mixed in with the S+S for the journey so I only need to heat using one pan. Big seas and two pans in the past have proved too much like trying to ride two horses at the same time.......messy.....and I don't have the wherewithal to learn such a circus skill. Later on Bear did me the proud honour of my very own egg event. More outside than in but I took it as a good omen. All battened down and we left our buoy at ten past ten. Ten o'clock target so not too bad.
We pass by this girl who came in yesterday and at the time, saw no-one, clearly tired and recovering. This morning during my cooking frenzy Bear listened to her skipper 'off-load'. This American and his Thai partner had had the journey from hell in storms, a tempest of a sea, ran out of diesel and by the time they had beaten back, had no water. Apparently a second abandonment of trying to get to the Maldives. Turning back is such a heart-sink and his lady was very frightened, fear at sea must feel endless and we hope she recovers soon. We feel for them both and wish them Fair Winds in whatever they choose to do next.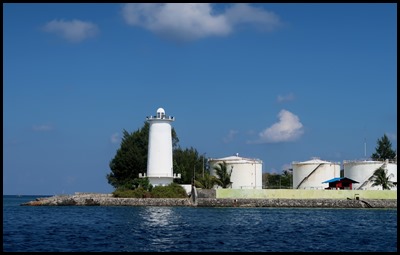 Off we go, heading past the lighthouse out to a beautifully maintained chap and turn right. Ready to take on a week at sea.
Locals racing each other in and after heartily waving got back to the serious business of the competition.
Away to our left, the Indonesian Zero Monument we had taken our pictures at the other day.
Then we were leaving
the northernmost and westernmost point of Indonesia and saying 'Goodbye'
. By lunchtime we had the genoa (front one) out and the engine off, we were sailing......yay.
Our first chum at 14:20 was a beauty called Manchester. Of course I looked her up, once settled. Bird, Danny, Josh and Ben come from that fine city and we thought of them especially. This behemoth is a container ship, Triple-E Class, Cargo – Hazard A Major. What does that mean ???
She carries some fairly interesting stuff. Anyhoo, back to her all important vital statistics. Built in 2018 her home port is Copenhagen, Denmark. Her
length is 399 metres, hips 58.6 metres, draught 14.5 metres, maximum speed an impressive
twenty-three knots but happily averages along at around fifteen, she spuddle by at 11.7 knots.
Her deadweight tonnage 214,286 and her Summer gross tonnage is 210,019 tons. She is due in to Singapore in four days at half past midnight and will arrive in Yangshan on the twenty-eighth at midnight.
The name "Triple E" is derived from the class's three design principles: "Economy of scale, Energy efficient and Environmentally improved". The class carries two thousand five hundred more containers than predecessors bringing the new total to eighteen thousand, three hundred and forty TEU. Wow. At the time of build these ladies were the biggest in the world, now beaten by the CSCL girls. But how can you picture what that all looks like when these ladies pass us at two or three miles away and look so pretty and cute ???
I love this quote from the BBC that captures it all:-
What is blue, a quarter of a mile long, and taller than London's Olympic stadium?
The answer - this year's new class of container ship, the Triple E. When it goes into service this June, it will be the largest vessel ploughing the sea.
Each will contain as much steel as eight Eiffel Towers and have a capacity equivalent to 18,000 20-foot containers (TEU).
If those containers were placed in Times Square in New York, they would rise above billboards, streetlights and some buildings.
Or, to put it another way, they would fill more than 30 trains, each a mile long and stacked two containers high. Inside those containers, you could fit 36,000 cars or 863 million tins of baked beans.
Thank you to Maersk for the image above that shows what Times Square would look like if the containers were piled 'in the wrong place'. When you consider that the first container ships in the mid-1950's carried five to eight hundred TEU things have come on a huge amount, literally.
I missed this palette by a few feet but Bear was not so when a tree hit us at midnight. Shows we all need our luck out here.
I only just mentioned that the CSCL girls are now the world's biggest but Mercury passed by at five-thirty. This lady is one of the smaller older girls, built in 2011. Her length is 366.06 metres, hips 51.23 metres, draught 9.8 metres, she pottered by a mile and a bit off at fifteen and a half knots. Her deadweight tonnage 150,853 and her gross tonnage is 155,374 tons. Like Manchester she is due in to Singapore in four days at half past midnight but then she takes off for Shanghai, arriving on the first of March in time for breakfast.
Bear took his first off-watch sleep and I settled to enjoy sunset.
A dramatic colour show before the muted tones as the sun slipped below the horizon. A feeling of peace and enjoyment came over Beez and her crew.
Romping along on a favourable current at over seven knots, not bad for a wind speed of twelve knots. The moon came up light a bright torch and our four hour watches went superbly. By the time I got up at ten in the morning we had completed 152.7 nautical miles, a commendable average of 6.36 knots per hour. Full sun, Fairly calm sea and what more could we want for.
ALL IN ALL SMASHING
PERFECT
---