Week Three to Antigua

Beez Neez now Chy Whella
Big Bear and Pepe Millard
Sun 8 Mar 2020 18:00
3:24.11 N 36:27.21 W (first time I have typed North for such a long time)
Third Week at Sea to Jolly Harbour, Antigua
Sunday Night. Only chatted to Sooty as he slept on Bobby's roost (top of the towing generator. Nearly six hours of sailing from 2 a.m.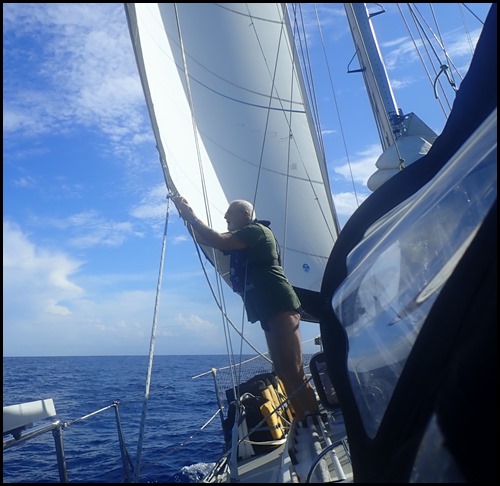 Monday the 2nd. Bear swapped the ends of the genoa sheet.......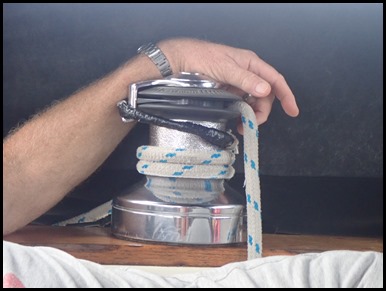 .....as a bit of wear and tear showed its face. Done all very efficiently. Sadly not a lot of wind but at least the sun is out. Bear had sweet and sour pork, I had S+S chicken.
Very exciting at 15:00 when we saw loads of water spouts from a herd of pilot whales. Sadly, the little point and shoot only managed to capture one spout. Sooty and his gang met up with many gannets for some serious fly-by aeronautics.
A pretty sky toward sunset.
Tuesday the 3rd. Bear had to be a very big boy at breakfast and enjoy his last banana. To make up to him I did venison pie, sprouts, tinned carrots and peas, mash and mushroom gravy. At 18:00 incredibly heavy rain. Sooty looked very wet and squawked, needing to hear my voice during the night quite often.
At 18:19 I saw the chum Spring Hawk (190 metres x 33 metres x 10 metres),
She is on her way to DZ BJA, due in on the 13th of March. She was trotting along at 11.3 knots and this is what she looked like at 1.76 nautical miles from Beez or six minutes and six seconds away.
"Are we there yet ???" – no, 2239 nautical miles to go.
Wednesday the 4th. At 05:00 I radioed the skipper of a very big girl. A cargo chum called Water Lily (210m x 33m x 10m) trotting along at 9.4 knots, en route to LEI PT. I thought that 30 metres was just a bit close.
The voice that answered my query as to who was going to do what, was that of Omar Sharif who said in that silken, slightly accented voice that felt like silk (stop it), "I will go behind you." Oh my, how glad I was to be a woman just at that moment. In my head I was singing "It's raining men, Hallelujah, its raining men......I'll get absolutely soaking wet....." Going back to my Desert Island Discs was like a rub down with the Evening Post by comparison.
Bear downloaded GRIB files and the plan is to head north and at one and a half degrees north hopefully find decent wind. The sea just now looks like a duck pond. Sooty happily fishing not too far away.
Squall to our left.
Thursday the 5th. A big day but more of that later. I got up to sort Bear's muesli and he's currently on tinned pears as an extra. Next job was for the skipper to put 120 litres of diesel in the main tank. Carbonara for lunch. At 14:00 we went through the 2,000 nautical mile mark. Now for the countdown to crossing the Equator for the fourth and final time.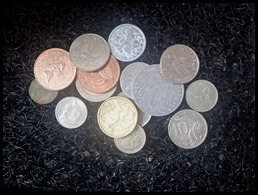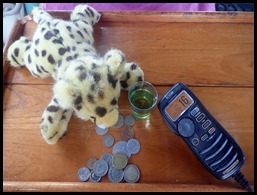 To pass the time we played two games of backgammon (the second was supposed to be a revenge match) but I lost both badly. Then I was crushed at Mex Train Doms. Growling quite a bit. Fluffy came out as the only member of the crew not to have been in an Equator crossing. We got King Neptune a tot of rum and some coins ready. Rain, not, rain, not, on and on, windows open and closed......
We crossed to the Northern Hemisphere at 17:09 YAY and YEHAA. Wind being her usual fickle mistress.
All the noughts – but this time going into North.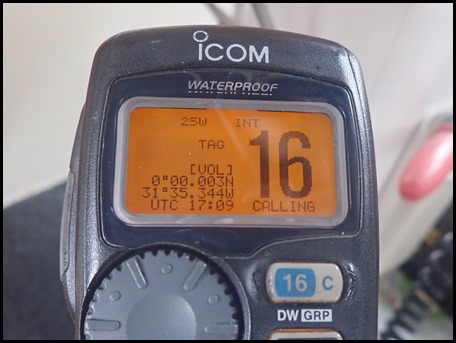 It's real, we are now in the Northern Hemisphere. A quick toast to each other, Beez Neez, Fluffy and of course King Neptune.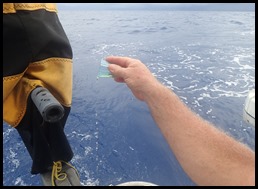 King Neptune's Toast.
King Neptune's Offering. The crew downstairs partied hard all night long.
All absorbed to a tranquil Atlantic Ocean.......until the first squall showed on the horizon.
Friday the 6th. Sunny and warm when I got up. IPad now says that we are in the North Atlantic Yay and Yehaa. At 12:10 we have 2,000 nautical miles left to do. Chicken curry and rice for lunch.
At 14:00 we have covered 2119 nautical miles, so we have done just over two hundred nmiles finding wind and generally zig-zagging. I lost really, really badly at Mex Train, three times I was caught with the double blank so that alone cost me one hundred and fifty points. Growling quite a bit.
14:00 Bear pulled up the main, cannot get over the beautiful blue and the calmness of the ocean. Some girls get the best view.....fiddling with his ropes.....and at 18:00, after our few days of known motoring it was lovely to finally get some wind.
This time fiddling with the generator, note kitchen towel stuck in knicker top – very chic.....
19:40, really flying along at the edge of a squall. My 18:00 to 22:00 saw winds up to 22 knots and our speed up to 8.8 knots. Bear reported that Sooty was none to pleased to see a different, big white thing flying (the main sail) and tried to land at the top of the mast for a closer look. Bear did not encourage this particular activity.
Saturday the 7th. At 02:20 the wind suddenly died and as I was only achieving speeds of between 0.8 and 1.6 knots, and also having to charge up, I elected to motor for three hours. Well, miraculously three seconds after I switched the engine off the wind began again and once more we are flying along. On Bear's 06:00 – 10:00 he managed to cover 26 nmiles. I left everything as it was and the "Now known as fluffy boy" slept peacefully for a couple of hours, woke to promptly beat me at backgammon AND for the fifth day running won at Mex Train. Deep growling indeed. I left him checking blogs (46 ready now to post when I get in, still behind though, as always) and went to get his lunch. Pasta bake for himself with a celebratory glass of wine....HUH.
Very overcast sky but at least the wind is steady, currently bowling along at 5.5 knots.
02:00. Definitely now in 'Squall Alley', just as I got my feathers settled to the odd second at 9.2 knots a very, very bright light appeared to the left of the mast. A huge chap, at a fast canter with no AIS showing up on the screen downstairs, or the chartplotter or Bear's IPad. Well.
Out I launched head and shoulders out of the front window, a few degrees to the right for safety, the behemoth passed by. I counted twelve lights along the side, so a Class A cargo ship, then I saw the outline of three cranes (very pale grey night with the big moon above a thin cloud line. Feathers backwards again....... The pictures may not be in focus or very impressive but when you have 70,000 tons bearing down on your 14 it certainly gives pause for thought.........
Bear's 06:00 to 10:00 was solid squalls, one after the other, this is his wiggly track trying to keep things smooth for my sleep time. It is like living in a rinse cycle But, if this gets us in a bit quicker I'm ready to suck it up. No sign of Sooty, so we guess he either doesn't like the squalls or we are too far north for him or he has gone back to the Mrs. A happy picture.
Just to prove the skipper goes to 'proper' bed. On this trip so far he usually goes to bed from 18:00 to 22:00 and from 02:00 to 06:00 – crossing the Indian Ocean he always slept in the cockpit as my 18:00 to 22:00 always turned crazy and I invariably needed his help. Bless him.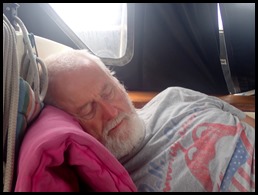 Sunday the 8th until 18:00. I came on to fifteen knots of wind and still a stiff trot. Loads of sea moss floating by in rug-sized swathes. Lunchtime saw a bit more in the way of a calming sea but it was still a challenge to sit and fillet a piece of wahoo for the skippers lunch cooked slowly in butter, salt and pepper. I served it with ratatouille and rice as that was all I could manage AFTER losing at backgammon. Too bouncy for Mex Train.
End of the week totals. Backgammon – Bear 32 me 30, but at least my winnings have gone up a bit to US $ 157, Growl, don't you growl at me after the charade on the Mex Train. Bear now has 13 to my 14, must do better next week...... Happy Pictures to end the week.
Total miles covered 2396 nautical miles with 1719 to go. (135 miles yesterday – our best yet.....)
ALL IN ALL A MUCH FASTER WEEK
ALL LOOKING MORE PROMISING – ESPECIALLY BACKGAMMON!
---