Day 14 to St Helena

Beez Neez
Skipper and First Mate Millard (Big Bear and Pepe)
Mon 10 Feb 2020 06:00
17:36.98 S 4:44.69 W
Day Fourteen to St Helena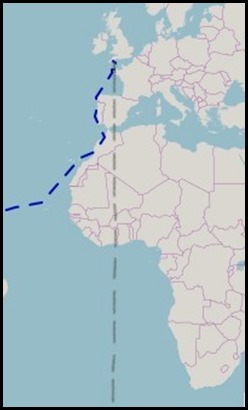 As always I went to stand at the bottom of the stairs to say good morning and ask about the days food requirements. I was more than a little surprised when a bear-like paw thrust in front of me, I took it, Congratulations we have gone all the way round as we have done our three-sixty degrees. Wow. You don't get up every morning to hearing that being verbalised. Wow. I had fun trying to draw two straight lines by hand on a rolling Beez but you get the idea. Sadly, the main map on the blog follows our track but not on one image so there are two Africas........
We have put in most of our westing (wind conditions and being able to sail) and now have 110 nmiles left to arrive in James Town, St Helena. Then just our long journey to Antigua to 'Close the Circle'. Wow. Hasn't really sunk in yet, well I did expect to discuss salad or hot food....... Would love to see our map on the blog but will have to wait until I get internet when we go ashore as we are now below and slightly to the left of Plymouth where it all began 40,872 nautical miles ago.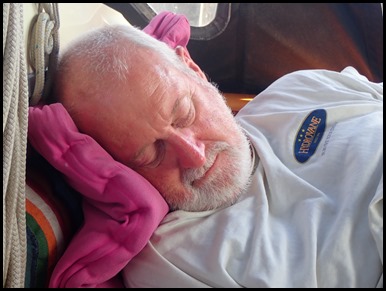 Todays 'Happy Pictures'.
Yesterday we spent the morning sailing with more of the same, some sun (the sea is such an incredible blue when the sun has 'got his hat on'), some overcast and some drizzle. I was four one up and lost, very disgruntled along with the growling (backgammon).
I had suggested Bear enjoy two egg banjos, what are you having, I fancy cheese and mushroom omelette with tinned tomatoes. Oooo can I have the same. There we are then. I had to win at Mex Train or I would be gnashing my teeth as well as growling. Bear has restarted his Harry Bosch books, I finished Game of Thrones and understand why so many thought it an anti-climax. Late afternoon I watched as over two hundred flying fish all took to the air at once to get out of Beez way, an incredible sight but too fast to have the camera ready in time.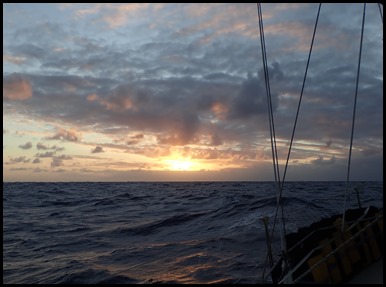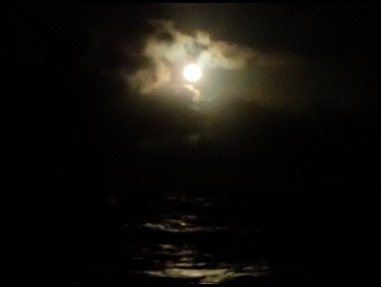 Sunset was none too spectacular but the full moon was. The little camera did his best even setting off the flash on one of the attempts, don't think that will light up the sky somehow. Well, it did try at least.
At six this morning we had covered 135 nmiles.
Total completed 1663 nautical miles.
ALL IN ALL A WONDERFUL FEELING
WHAT AN ACHIEVEMENT AND HEADING FOR BRITISH SOIL......
---