The Fastest

Beez Neez now Chy Whella
Big Bear and Pepe Millard
Fri 24 Apr 2009 21:35
The Fastest
Well it seemed fitting after the biggest to find out the fastest.
4000 years of naval construction, how much has been gained in speed?
From ancient times until the 19th century, the most efficient way of moving men and materials over great distances was by sea. It was much more economical than transport by foot, cart, camel caravan and was often safer too. Until the arrival of the airplane, it was also the speediest way, as can be seen by these crossing times:
Sailing ships:
1846 - Yorkshire left Liverpool for New York crossed in 16 days average speed 8.0 knots

1851 - Flying Cloud left New York for San Francisco crossed in 89 days average speed 7.1 knots via Cape Horn.

1853 - Northern Light left San Francisco for Boston crossed in 76 days average speed 8.3 knots

1868 - Thermopylae left Liverpool for Melbourne crossed in 63 days average speed 8.0 knots

1905 - Atlantic left Sandy Hook for England crossed in 12 days 4 hours average speed 10.3 knots
Steamships:
1838 - Great Western left Bristol for New York crossed in 15 days average speed 7.8 knots

1934 - Bremen left Cherbourg for Ambrose Light crossed in 4 days 14 hours average speed 28.0 knots

1937 - Normandie left New York for Southampton crossed in 3 days 22 hours average speed 31.4 knots

1938 - Queen Mary left Ambrose Light for Bishop's Rock crossed in 3 days 20 hours average speed 34.0 knots

1952 - United States left Ambrose Light for Bishop's Rock crossed in 3 days 10 hours average speed 35.8 knots
The Flying Cloud of 1851 was the most famous of the extreme clippers
built by Donald McKay
in East Boston, Massachusetts
, intended for Enoch Train of Boston
, who paid $50,000 for her construction. The Flying Cloud was purchased at launching by Grinnell, Minturn & Co.
, of New York, for $90,000, which represented a huge profit for Train & Co. Within six weeks she sailed from New York
and made San Francisco
'round Cape Horn
in 89 days
, 21 hours
under the command of Captain Josiah Perkins Creesy
. In the early days of the California Gold Rush

, it took more than 200 days for a ship to travel from New York to San Francisco, a voyage of more than 16,000 miles.

On the 31st of July
, during the trip, she made 374 miles in 24 hours. In 1853 she beat her own record by 13 hours, a world beating record that stood for 136 years, until 1989 when the breakthrough-designed sailboat
Thursday's Child completed the passage in 80 days, 20 hours. The record was once again broken 2008 by the French racing yacht Gitana 13
with a time of 43 days and 38 minutes.
The Flying Cloud's achievement was remarkable under any terms. But, was all the more unusual because her navigator was a woman, Eleanor Creesy
, who had been studying oceanic currents, weather phenomena, and astronomy since her girlhood in Marblehead, Massachusetts
. She was one of the first navigators to exploit the insights of Matthew Fontaine Maury
, most notably the course recommended in his Sailing Directions. With her husband, ship captain Josiah Perkins Creesy
, she logged many thousands of miles on the ocean, traveling around the world carrying passengers and goods. In the wake of their record-setting transit from New York to California, Eleanor and Josiah became instant celebrities. But their fame was short-lived and their story quickly forgotten. Josiah died in 1871 and Eleanor lived far from the sea until her death in 1900.
The Flying Cloud
The Cutty Sark is the most famous British Clipper
. Built in 1869, she served as a merchant vessel
(the last clipper to be built for that purpose), and then as a training ship until being put on public display in 1954. She is preserved in dry dock in Greenwich, London
. However, the ship was badly damaged in a fire on the 21st of May 2007
while undergoing extensive restoration. The Cutty Sark is the only remaining original Clipper ship from the 1800's.

Etymology: The ship is named after the Cutty Sark
(Scottish for
short chemise
or undergarment
). This was the nickname of the fictional character Nannie Dee (also the name of the ship's figurehead
) in Robert Burns
' 1791 comic poem Tam O' Shanter
. She was wearing a linen
cutty sark that she had been given as a child, therefore it was far too small for her. The erotic
sight of her dancing in such a short undergarment caused Tam to cry out "Weel done, Cutty-sark", which subsequently became a well known idiom
. Her Portuguese nickname was Pequena Camisola - Portuguese for Little Shirt

History: She was designed by Hercules Linton
and built in 1869 at Dumbarton, Scotland
, by the firm of Scott & Linton
, for Captain John "Jock" "White Hat" Willis;
Cutty Sark was launched on November the 22nd
of that year, and after Scott & Linton
was liquidated she was completed by William Denny & Brothers
for John Willis & Son.
Cutty Sark was destined for the tea
trade, then an intensely competitive race across the globe from China to London
, with immense profits to the ship to arrive with the first tea
of the year. However, she did not distinguish herself; in the most famous race, against Thermopylae
in 1872, both ships left Shanghai
together on June the 18th
, but two weeks later Cutty Sark lost her rudder
after passing through the Sunda Strait
, and arrived in London on October the 18th
, a week after Thermopylae, a total passage of 122 days. Her legendary reputation is supported by the fact that her captain
chose to continue this race with an improvised rudder instead of putting into port
for a replacement, yet was only beaten by one week.
Career (UK, Portugal)
Names: Cutty Sark 1869-1895, Ferreira 1895-1916, Maria do Amparo 1916-1922, Cutty Sark 1922 to date. Tonnage: 975 GRT

Namesake: Scottish witch Cutty Sark Displacement: 2,100 tons at 20 ft draught

Christened: The 22nd of November 1869 by Mrs. Moodie. Length: 212 ft

Acquired: British Merchant Navy Beam: 36 ft

Commissioned: The 16th of February 1870 Speed: 17.15 knots

Out of Service: December 1954 Capacity: 1,700 tons

Homeports: London 1870-1895 Lisbon 1895-1911 Lisbon 1911-1923 Falmouth 1923-1938 London 1938 to date. Motto:

Where there's a Willis a way
The Cutty Sark
In the end, clippers lost out to steamships, which could pass through the recently-opened Suez Canal and deliver goods more reliably, if not quite so quickly, which proved to be better for business. Notably, during the transition period to steam the Cutty Sark sailed faster than some steamships including mail packets on a destination and condition basis Cutty Sark was then used on the Australian wool trade. Under the respected Captain Richard Woodget, she did very well, posting Australia-to-Britain times of as little as 67 days. Her best run, 360 nautical miles (666 km) in 24 hours (an average 15 kn (28 km/h), was said to have been the fastest of any ship of her size.
Although ships have improved greatly in carrying capacity and safety they have improved surprisingly little in speed. The ancient galleys sped along at 6 knots, the caravels of Christopher Columbus in good winds at 7 knots and few modern ships ever exceed 25 knots. The reason is that ships face large resistance factor due to moving through water, whereas the wheel on land benefits from the small value of friction - particularly on rails, and a plane in the air encounters very little resistance to motion. So it is natural that much greater advances in speed have been made on land and in the air. If you smooth out the numbers, there is a factor of ten between the speeds. Boats 6 knots, car or train 60 knots and a plane 600 knots. There is a well known definition of sailing as the slowest, most uncomfortable, most expensive way to get from A to B. Funnily enough the way we have chosen to go round the world.
The Clippers
The clipper as it's name implies, is a fast moving ship, in fact, the fastest type of commercial sailing ship ever constructed. Developed in the US between 1830 and 1860, clippers became the preferred ships for bringing immigrants to America, carrying fortune hunters to California and Australia during the gold rushes and supporting the strong commercial expansion of the US during that period. Clippers were designed for speed rather than carrying capacity. Normally three-masted with square sails, averaging 200 feet in length and very streamlined. A long slender bow and very tall masts with wide yards that allowed them to carry much more sail than other ships of the day. The captains commanding these vessels were often obsessed with speed, pushing their ships and crew to the limit.
At a time when merchant ships spuddled along at 4 or 5 knots with their heavy hulls and round bows which had hardly changed since the era of the Spanish galleon, the American clippers were revolutionary. Fantastic long-distance racers, reaching speeds of 20 knots reducing to less than 100 days trips that had taken nearly a year.
It was a time of record breakers. In 1845, the Rainbow made New York to China - round trip in seven and a half months. The James Baines crossed the Atlantic from Boston to Liverpool in 12 days and went round the world in 133 days. The Nightingale did Shanghai to London in 91 days. The Sea Witch did Canton to New York in 81 days and the Challenge did Hong Kong to San Francisco in 33 days. In 1854, the Lightening established the world record for distance covered in 24 hours at 436 nautical miles, a distance only broken long after the advent of motor-powered ships. We by comparison are happy at anything over a 100 nautical miles a day with an average of around 120.
Why was the clipper born in the US when the great naval power was England? The answer is found in the shipyards of Baltimore on the Chesapeake Bay, which , since the late 18th century had been turning out small, swift ships, firstly for the coastal trade, then for the Caribbean Pirates, the American privateers during the war of 1812 against England and finally, for the slave trade. Slave-ships had to be swift in order to keep down the death toll affecting their wretched cargo and to escape the English warships that pursued them after England and most of the major powers banned slavery from 1811.
The clippers remained an Anglo-Saxon speciality, first the US, then the UK and Canada. Not many were built elsewhere, just a few in France, Germany, Denmark and Holland. America stopped building clippers after 1860 due to a drop in demand. Great Britain carried on producing them for the tea trade until 1870, but the opening of the Suez Canal in 1869 and the arrival of the motor-powered ship marked the end.
The Taeping had set off from China with a cargo of tea on the 30th of May 1866 and arrived at London Docks on the 6th of September at 9.45pm. The 'Ariel' had departed on the same day and arrived at the East India Dock on the 6th September at 10.15pm. The first ship home with the new tea crop would be able to command a far higher price for her cargo, so these beautiful ships, with their large area of sail and sleek lines, were built for speed. Tea represented one of the main consumer goods brought to Britain from the East.
Taeping and Ariel
Speed records on water.
The absolute speed record is the
Spirit of Australia
, driven by
Ken Warby (born on the 9th of May 1939) who is an Australian motor boat
racer, he currently holds the water speed record
of 317.60 miles per hour
. This was set in Blowering Dam
, part of the Snowy Mountains hydro-electric scheme
, near Tumut, New South Wales
,
on the 8th of October 1978. "Spirit" was powered by a 6000 horse power Westinghouse jet engine

.

As a child, Warby's hero was Donald Campbell
, who died attempting to break the record in 1967.
The record for a sailboat is 46 knots over a distance of 500 metres, held by three Australians on Yellow Pages Endeavour, a vessel with three planing hulls. There was barely 20 knots of wind on the day of the record which was in 1993. The boat requires 15 knots plus to take off, but once planing can go almost three times the wind speed.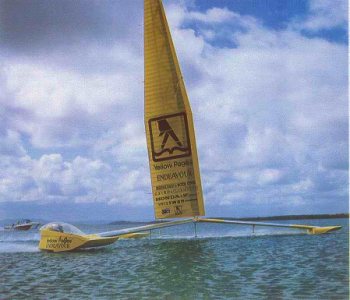 Ken Warby, Spirit of Australia and Yellow Pages Endeavour
Charlie Barr:
( 1864 - 1911 ) was an excellent skipper, born in Gourock, Scotland
, he first apprenticed as a grocer before working as a commercial fisherman. In 1884, he took a job with his older brother John, delivering a sailing yacht, Clara, to America. Clara's racing success was such that in 1887, John was selected to skipper the British challenger, a yacht called Thistle
, the representative of the Royal Clyde Yacht Club; Charlie served as a member of the crew. Thistle was soundly defeated by yacht Volunteer
. In the process, however, the brothers Barr were introduced to Nathaneal Herreshoff
, and Charlie Barr's yachting career was launched, he would sail Herreshoff-designs for much of the rest of his professional sailing life.
The America was a 19th century racing yacht which gave its name to the international sailing trophy it was the first to win the America's Cup, known then as the Royal Yacht Squadron's "One Hundred Guinea Cup". The schooner was designed by George Steers for Commodore John Cox Stevens and a syndicate from the New York Yacht Club. On the 22nd of August 1851, the America won by eight minutes over the Royal Yacht Squadron's 53 mile regatta around the Isle of Wight.
America's Cup success: Captain Charles Barr was skipper of the yacht Columbia
in 1899 and defeated Sir Thomas Lipton's Shamrock
. Two years later, in 1901, Charlie Barr was again at the helm against a Lipton sponsored racing machine, Shamrock II, a 137 foot Watson
-designed cutter. In 1903, Barr was the captain of the winning yacht Reliance
, one of the most famous racing yachts to be designed by Nathanael Herreshoff. Barr was inducted into the America's Cup Hall of Fame
1993.
Atlantic at the start of the race
Atlantic record: Charlie Barr is best known for setting the record for the fastest crossing by a sailing yacht of the Atlantic Ocean on the schooner named the Atlantic in the legendary 1905 Kaiser's Cup Transatlantic Race, crossing from Sandy Hook Light Ship, near New York to Point Lizard, Cornwall, a distance of 2925 nautical miles. Barr made his crossing in 12 days, 4 hours, 1 minute and 19 seconds, a racing record that stood for 100 years for the type of craft, 75 years for any class. Charlie benefitted from an exceptional series of strong depressions on his crossing. On the other hand, conditions were rough. When one of the storms was at its worst, the terrified owner appeared on deck and called for the sails to be reduced. Barr answered with "You hired me, sir, to win this race, and by God, that's what I am going to do," and promptly sent the man back to his cabin.
The first to beat Barr's record was Eric Tabarly in 1980 on the hydrofoil trimaran Paul Richard, shortening Barr's time by 2 days, and new records have been set frequently since then. The current record for a crossing by a single-hulled boat has been held by Bernard Stamm on the Open 60 Armor Lux with a time of 8 days 1 hour, and for catamarans since 2001 by Playstation with the incredible time of under 5 days.
The record for a distance covered in 24 hours is 695 nautical miles, established in 2002 by the English catamaran
Maiden 2.
St Malo, France -- Maxi catamaran Maiden 2 has taken the English Channel record by cutting 57 minutes off the 1991 record. Maiden 2 took 5 hours and 24 minutes to cross from Cowes, Isle of Wight to St Malo, France, finishing at 14:44:04 on Tuesday. The previous record was set by American adventurer Steve Fossett in his 38 metre (125 foot) catamaran PlayStation in December 1991. The Maiden 2 team had an unofficial average speed of 25.7 knots. Skipper Brian Thompson and crew member Helena Darvelid were aboard PlayStation for the 1991 record, so both broke their own record. "We're smoking! I can see St Malo and were doing 26 knots of boat speed. The wind has held all the way contrary to what was expected, we've had 15-16 knots the whole time," Thompson said during the crossing. This latest record is Maiden 2's fourth record in the last four months. It now holds the Antigua-Newport record; the 24-hour speed record; the Round Britain and Ireland record and the Channel record. Project director Tracy Edwards remained ashore to find a sponsor for a Jules Verne non-stop round-the-world record in early 2003. Edwards purchased Maiden 2 in March. The boat was formerly called Club Med and sailed by veteran New Zealand sailor Grant Dalton in The Race 2000, which it won in a 62-day non-stop circumnavigation from Barcelona back to Marseille. 2002. British catamaran Maiden II has smashed the round Britain and Ireland record, completing the course in four days, 17 hours and three minutes. Britain's Brian Thompson skippered the catamaran past the previous record, set by American Steve Fossett, in emphatic fashion. Fossett's Lakota established the record of five days, 21 hours and five minutes in 1994, but that time now lags over 28 hours behind Thompson's record run. "We are very, very pleased to have done the course and feel we did a good job," said Thompson.
Antoine Albeau is a French windsurfer who holds eleven Windsurfing World Championships in different disciplines since 1994. Born on the 17th of June 1972 in La Rochelle, France, Albeau set a new all-category world windpowered sailing speed record
on the 5th of March
2008 with 49.09 knots (90.91 Km/h or 56.49 mph) on a 500 metre course at Saintes Marie de la Mer
, beating the previous record which had been set by Finian Maynard
with a speed of 48.70 knots in April 2005 at the same spot. In October 2008 Antoine Albeau successfully completed a cross channel windsurf from Cherbourg
, France
to Sandbanks, Poole
. A crossing of 75 nautical miles (138 kilometres) taking just over 6 hours.
Maiden 2 and Antoine Albeau
ALL IN ALL we will stick to our record of six seconds doing 10.1 knots.
---