Camel Creek 1

Beez Neez now Chy Whella
Big Bear and Pepe Millard
Fri 19 May 2017 22:57
Camel Creek Adventure Park for Andrew's Third Birthday
We began our time aboard Maud on this coast, nipped down to Fowey on the other coast and here we are heading back up, this time to Camel Creek Adventure park. Up early this morning to do the perishable shop for Andrew's third birthday.
Birthday boy arrived and we soon had bubbles.
After a bite to eat the ladies and all the small people went off to have fun while the menfolk erected awnings, put up tents and gazebos, probably testing a beer or two. We loved the way this groups of friends scooped up any one of the children and went on the first ride.
Delight for all ages on the swings.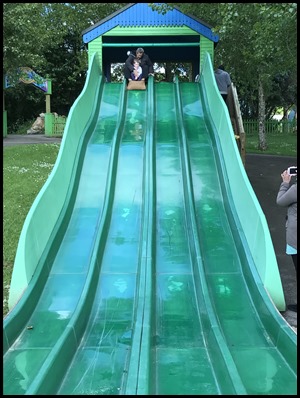 Grandma with her birthday boy.
Later, during a football match I spotted Miff wearing a pair of 'bald' socks – in fact I went to rip them off. A messy tussle, we look like two sparring hippos.....(all because I had replaced all his socks and there had been a promise for scruffy ones to have been thrown out.
The group settled to a take-away supper of fish and chips. Proper celebrations on the morrow when more friends arrive.
ALL IN ALL A FUN DAY
GREAT DAY FOR THE KIDS
---