Playa Ochoa

Beez Neez now Chy Whella
Big Bear and Pepe Millard
Tue 9 Apr 2013 22:57
Our walk on the Beach at Playa Ochoa
We left Lion Rock, although some tour guides also call it Kicker Rock, motored past a sea roost of blue-footed boobies and anchored off the beach. The dinghy took us ashore where the horse flies were a bit rampant. "It's the wet legs they are after" Rod told us. Very true. As soon as we had left the wet sand and our legs dried we were free and clear, all with a couple of nips each.
A great heron welcomed us as soon as we wandered and a marine iguana lurked in the white mangrove bushes
High tide was the perfect time to see Sally Light-foots in their hundreds.
It was great to walk along the beach and watch the surf.
Looking back.
Handsome, not really but did they deserve the write up they got from Charles Darwin ??
A bit harsh methinks.
"The black Lava rocks on the beach are frequented by large (2-3 ft), disgusting clumsy Lizards. They are as black as the porous rocks over which they crawl & seek their prey from the Sea. I call them 'imps of darkness'. They assuredly well become the land they inhabit."
Our chap sauntered off to find some shade – preferred if he had gone for a swim
A finch and THEN, a very handsome boy
Handsome was happy to pose.
Then Shock horror. No twigs beneath these sharp feet. I had to have words – no self respecting female would look at this chap, no matter how hard he puffed his gular up, or how big and red it was - they have to see at least two twigs to call it a love-nest and take things to the next level. He understood and soon I saw him with the necessary bedding in beak, but first he had to deflate a bit.
The patient love interest.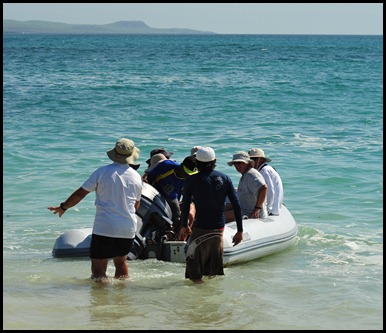 All too soon it was time to return to the Planean and back home.
ALL IN ALL WE STILL CAN'T GET OVER THE LACK OF FEAR IN THE CREATURES WE MEET
---