First London 2

Beez Neez
Skipper and First Mate Millard (Big Bear and Pepe)
Sun 20 Aug 2017 22:37
First London Blog – Part Two
Next on our right is the home of the Household Cavalry Mounted Regiment. It consists of one sabre squadron from each regiment of the Household Cavalry (the Life Guards and the Blues and Royals) plus a Headquarters Squadron, and the Household Cavalry Training Wing. Each of the Squadrons consists of two divisions of one officer and 24 men. This has been based (in various forms) at Hyde Park Barracks, Knightsbridge, since 1795. This is three-quarters of a mile from Buckingham Palace, close enough for the officers and men of the Household Cavalry to be available to respond speedily to any emergency at the Palace and also to conduct their ceremonial duties.
The Horse and Hound Magazine ran a feature called 11 things you might not know about Household Cavalry horses
1. The horses have been helping to guard our royal family and taking part in ceremonial occasions since Charles II was restored in 1660.
2. A ceremonial horse has to carry about four stone (25kg) in dead weight of kit, plus a man.
3. Cavalry Blacks tend to be geldings — there are no stallions — and are at least 16 hands high, but are often bigger.
4. The Riding Master, who oversees all selections, looks for horses that are preferably unbroken, of good weight, good attitude, clean-limbed, good outlook, no blemishes, and straight movers.
5. Most horses are purchased when they are three or four, and are then sent to the Royal Army Veterinary Corps Depot, at Melton Mowbray in Leicestershire, from where they are forwarded to the Household Cavalry Mounted Regiment in London, for selection by squadron leaders.
6. They are usually named after battles or significant places, and each year the new horses' names begin with a particular letter.
7. When a horse joins the Household Cavalry, a regimental number is stamped on its hooves.
8. In 1982 four men and seven horses of the Household Cavalry were killed in the Hyde Park bombing. Whenever the Household Cavalry now rides from Knightsbridge Barracks to Horse Guards to change the guard on duty, they salute the memorial.
9. During the summer the regiment spend four weeks in Norfolk as part of their annual Regimental Training Camp – and the horses are taken for a splash in the sea.
10. Since 1997 all regimental horses have been fitted with a microchip for identification purposes.
11. The average age of retirement for regimental horses is about 17 or 18, but a few make it well into their 20's.
We cut through Park Close taking in the suspended rhino popping out at The Wellington Club.
We 'dropped' the dropped mobile of Harley in to a repairer and picked it up after our visit to Harrods, the day fast becoming a huge success.
We spent the next hour and a half exploring Harrods, mostly in the toy department (own blog).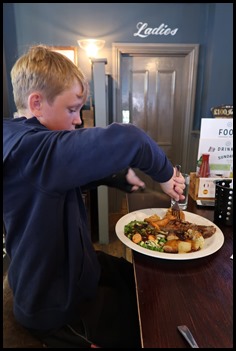 Back to the pub on the corner of Park Close where we all really enjoyed a Sunday Roast.
A must-have-picture on the corner of Carnaby Street and another at Waterloo Station before heading over to the London Eye.
After our London Eye flight we enjoyed an ice cream and took in the sight of the Houses of Parliament and Big Ben.
We then crossed the Thames and waited to hear Big Ben chime nine o'clock – he will be silenced at midday tomorrow for four years, his tower has to have much needed TLC and the noise would hurt the workmen's ears too much.
Finally, back to Earl's Court, now dark to settle Beds in. By the time Harley and the two of us had unpacked, showered and got in to bed it was midnight. Phew.
.
ALL IN ALL A BRILLIANT START
A VERY BUSY, HAPPY, FUN FIRST DAY
---