Russell for FC&IC

Beez Neez now Chy Whella
Big Bear and Pepe Millard
Sat 3 Jan 2015 23:57
Trip to Russell in Stan for Fish, Chips and Ice Cream
This morning we actually had breakfast before anyone felt it was 'beer o'clock', we have seriously been heeding that "It's five o'clock somewhere". Chris was drinking orange juice – honest Guv but just to keep up with the rumour of her being no lightweight, we didn't move Mr Jamieson out of the way. In the next picture – allegedly this is what mossie-roller-rub-in looks like, we chose to look the other way. Soon the Sheers had arrived and a quick decant of camping equipment to Mrs Puki saw us out on this sunny day to Russell. Soon settled in the Swordfish Club awaiting fish of the day.
Waiting for lunch to be served we all agreed – you-never-know-what-you'll-see-next, a dog in a backsack. OK.
After our smashing lunch the girls did a little bit of grockle shop bimbling, really nice to be a tourist for a little while. We found the boys just chillin'.
Very apparent they had been putting the world to rights, but an opportunity arose...........
Too good to miss.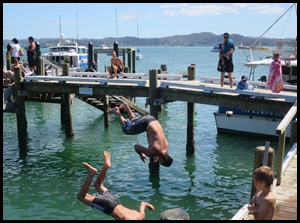 Six cruisers and friends took their ice creams to the end of the pier, watched the world go by and the youngsters having fun.
New Year Bear.
Sitting in the back of a very comfortable Stan it was agreed that the ferry Christmas tree had had a very windy time of it.
In the evening we settled to a game of Mexican Train Dominoes using our lovely Christmas present – new station, complete with sound effects. No guesses whose train was in at the time, silly me for loving the colour yellow. Baileys o'clock Chris ???
ALL IN ALL A LOVELY DAY OUT
SUNNY TIME BY THE SEA
---