The Food of Morocco

Beez Neez
Skipper and First Mate Millard (Big Bear and Pepe)
Sun 19 Oct 2008 17:04
The Fruit of Morocco.
Mention Morocco and people immediately think of
DATES The Date Palm (Phoenix dactylifera) is a palm in the genus Phoenix, extensively cultivated for its edible fruit. Due to its long history of cultivation for fruit, its exact native distribution is unknown, but probably originated somewhere in the desert oases of northern Africa, and perhaps also southwest Asia. It is a medium-sized tree, 15–25 m tall, often clumped with several trunks from a single root system, but often growing singly as well. The leaves are pinnate, 3–5 m long, with spines on the petiole and about 150 leaflets; the leaflets are 30 cm long and 2 cm broad. The full span of the crown ranges from 6–10 m. The fruit is a drupe known as a date. They are oval, 3–7 cm long, and 2–3 cm diameter, and when unripe, range from bright red to bright yellow in colour, depending on variety. Dates contain a single seed about 2–2.5 cm long and 6–8 mm thick. Three main cultivar groups of date exist; soft (e.g. 'Barhee', 'Halawy', 'Khadrawy', 'Medjool'), semi-dry (e.g. 'Dayri', 'Deglet Noor', 'Zahidi'), and dry (e.g. 'Thoory'). The type of fruit depends on the glucose, fructose and sucrose content. As we can attest the date also makes a jolly good alcoholic potion similar to Saki but twice as strong. The first mouthful definitely gives indigestion but after a couple of swigs, that disappears as the alcohol has its numbing effect.
The Date Palm is dioecious, having separate male and female plants. They can be easily grown from seed, but only 50% of seedlings will be female and hence fruit bearing, and dates from seedling plants are often smaller and of poorer quality. Most commercial plantations thus use cuttings of heavily cropping cultivars, mainly 'Medjool' as this cultivar produces particularly high yields of large, sweet fruit. Plants grown from cuttings will fruit 2–3 years earlier than seedling plants. Dates are naturally wind pollinated but in both traditional oasis horticulture and in the modern commercial orchards they are entirely pollinated manually. Natural pollination occurs with about an equal number of male and female plants. However, with assistance, one male can pollenize up to 100 females. Since the males are of value only as pollenizers, this allows the growers to use their resources for many more fruit producing female plants. Some growers do not even maintain any male plants as male flowers become available at local markets at pollination time. Manual pollination is done by skilled labourers on ladders, or in some areas such as Iraq they climb the tree using a special climbing tool that wraps around the tree trunk and the climber's back to keep him attached to the trunk while climbing. Less often the pollen may be blown onto the female flowers by wind machine.
MEDICINAL USES. Dates have a high tannin content and are used medicinally as a detersive (having cleansing power) and astringent in intestinal troubles. As an infusion, decoction, syrup, or paste, dates may be administered for sore throat, colds, bronchial catarrh, and taken to relieve fever and number of other complaints. One traditional belief is that it can counteract alcohol intoxication. The seed powder is also used in some traditional medicines. A gum that exudes from the wounded trunk is employed in India for treating diarrhoea and genito-urinary ailments. The roots are used against toothache. The pollen yields an estrogenic principle, estrone, and has a gonadotropic effect on young rats.
OTHER USES. The trunks can be used as fire wood, branches in house building, palms added to roofs for insulation against the heat. If there is no other food available the camel will eat it.
The POMEGRANATE
The pomegranate (Punica granatum) is a fruit-bearing deciduous shrub or small tree growing to between five and eight metres tall. The pomegranate is native to the region from Iran to the Himalayas in northern India and has been cultivated and naturalized over the whole Mediterranean region and the Caucasus since ancient times. Pomegranate aril juice provides about 16% of an adult's daily vitamin C requirement per 100 ml serving, and is a good source of vitamin B5 (pantothenic acid), potassium and antioxidant polyphenols. Widely used in cookery all over the world and in cocktails.
MEDICINAL USES. The most abundant polyphenols in pomegranate juice are the hydrolyzable tannins called punicalagins which have free-radical scavenging properties in laboratory experiments. Punicalagins are absorbed into the human body and may have dietary value as antioxidants, but conclusive proof of efficacy in humans has not yet been shown. Many food and dietary supplement makers have found advantages of using pomegranate phenolic extracts as ingredients in their products instead of the juice. One of these extracts is ellagic acid which may become bioavailable only after parent molecule punicalagins are metabolized. In preliminary laboratory research and human pilot studies, juice of the pomegranate was effective in reducing heart disease risk factors, including LDL oxidation, macrophage oxidative status, and foam cell formation, all of which are steps in atherosclerosis and cardiovascular disease. Tannins and punicalagins are primary factors for reducing oxidative stress which may account for such risk factors. Pomegranate juice has also been shown to reduce systolic blood pressure by inhibiting serum angiotensin-converting enzyme, may inhibit viral infections, and may have antibacterial effects against dental plaque. Containing polyphenols which inhibit estrogen synthesis, pomegranate seed oil was effective against proliferation of breast cancer cells in vitro.
OTHER USES. The Pomegranate has been used widely as a religious symbol across many ages. The pomegranate is the symbol and heraldic device of the city of Granada in Andalusia, Spain. Pomegranate is one of the symbols of Armenia, representing fertility, abundance and marriage. It is the official logo of many cities in Turkey. Pomegranate juice is used for natural dyeing of non-synthetic fabrics. Although not native to China, Korea or Japan, the pomegranate is widely grown there and many cultivars have been developed. It is widely used for bonsai because of its flowers and for the unusual twisted bark that older specimens can attain. Balaustines, the red rose-like flowers of the pomegranate, taste bitter and may be used as an astringent in folk medicine. The term "balaustine" (Latin: balaustinus) is also used for a pomegranate-red color. In Mexico, pomegranate seeds are an essential ingredient of chiles en nogada, a favoured food symbolizing the red component of the national flag. Kandahar is famous in Afghanistan for its high quality pomegranates. Pomegranate is displayed on coins from the ancient city of Side, Pamphylia.
You can buy Oranges, Avocados, Bananas, Apples, Pears, Water and Honeydew Melons. The two fruits I have gone into detail with just happen to be our favourites.
Vegetables we have seen in the market and supermarket are just as you find anywhere else.
COOKING
A tajine or tagine (Arabic: طاجين) is a type of dish found in cuisines of Morocco, which is named after the special pot in which it is cooked. The traditional tajine pot is formed entirely of a heavy clay which is sometimes painted or glazed. It consists of two parts; a base unit which is flat and circular with low sides, and a large cone or dome-shaped cover that rests inside the base during cooking. The cover is so designed to promote the return of all condensation to the bottom. With the cover removed, the base can be taken to the table for serving. Recently, European manufacturers have created tajines with heavy cast iron bottoms that can be fired on a stovetop at high heat. This permits browning meat and vegetables before cooking. While the similar Dutch oven and sach, (a cast iron pot with a tight cover) braises most efficiently in the oven, the tajine braises best on the stovetop.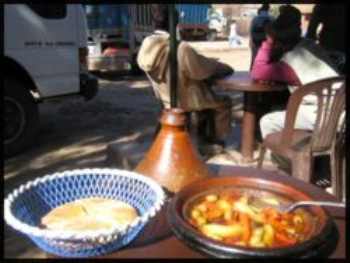 Tajines in Moroccan cuisine are slow-cooked stews braised at low temperatures, resulting in tender meat with aromatic vegetables and sauce. They are traditionally cooked in the tajine pot, whose cover has a knob-like formation at its top to facilitate removal. While simmering, the cover can be lifted off without the aid of a mitten, enabling the cook to inspect the main ingredients, add vegetables, move things around, or add additional braising liquid. Most tagines involve slow simmering of less-expensive meats. For example, the ideal cuts of lamb are the neck, shoulder or shank cooked until it is falling off the bone. Very few Moroccan tagines require initial browning; if there is to be browning it is invariably done after the lamb has been simmered and the flesh has become butter-tender and very moist. In order to accomplish this, the cooking liquid must contain some fat, which may be skimmed off later.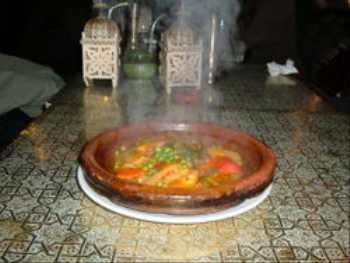 Moroccan tajines often combine lamb or chicken with a medley of ingredients or seasonings: olives, quinces, apples, pears, apricots, raisins, prunes, dates, nuts, with fresh or preserved lemons, with or without honey, with or without a complexity of spices. Traditional spices that are used to flavour tajines include ground cinnamon, saffron, ginger, tumeric, cumin, paprika, pepper, as well as the famous spice blend Ras el hanout. Some famous tajine dishes are mqualli or mshermel (both are pairings of chicken, olives and citrus fruits, though preparation methods differ), kefta (meatballs in an egg and tomato sauce), and mrouzia (lamb, raisins and almonds). Other ingredients for a tajine include any product that braises well: fish, quail, pigeon, beef, root vegetables, legumes, even amber and aga wood. Modern recipes in the West include pot roasts, ossobuco, lamb shanks and turkey legs. Seasonings can be traditional Moroccan spices, French, Italian or suited to the dish.
All in all sumptuous food, flavours, spices, fruits and vegetables. And Big Bear loves it all.
---