Can Tho & Digs

Beez Neez now Chy Whella
Big Bear and Pepe Millard
Wed 27 Dec 2017 23:57
Can Tho Bimble and Digs
We leave our tour boat at the end of a busy day exploring the Mekong Delta. We bimble toward our digs. Can Tho is the fourth biggest city of Vietnam, the biggest in the area and has a population of one and a quarter million.
A very neat public garden, we see many town areas like this, well kept and trimmed.
The laundry.
The fishmonger.
On opposite corner of the High Street we see bowls of chaps with their own baby air pump.
The butcher.
The bike park, all neat and numbered in the attendants booklet.
The fruit and veg lady sorting her lettuces. A little girl in the material shop waiting for supper.
Afternoon Zzzz's at the engineering shop.
A deal going down outside Halfords.
We walk into our digs and after checking in we agree seven o'clock is a good time for supper. Our guide finished his call and told us supper was not included in our tour. We cancel our table and head to our room with pot noodle in mind. Bear's mobile goes a while after the boys were settled, yes, supper is included and we should "relax, take a shower and a nap before seven". Well, quick as we can move when necessary, to manage all that in eight minutes would be pushing it. Pot noodles are shelved and we head downstairs.
No choice of supper, there it was. I had pre-ordered something with no herbs or garlic and not only am I fed up at seeing wobbly looking stuff, I can see whole cloves of garlic and green herb decoration on the vegetables. Really not fancying dry, boiled rice I ask for help. The nice lady from reception assures me she told the kitchen when a strumpet appears and argues over my head with nice lady. I watch the ants on the table. Strumpet, hands on hips clearly doesn't believe there is such an allergy. I try and be helpful and offer to have French stick and jam. We had paid a bit more to go from two stars to three, thinking we may stand a better chance of me being catered for. I am now fuming and nothing less than a free HCM City tour each will placate me. (The following afternoon at six, I am sitting in the tour office telling them I will not move until I have a refund of the start difference or a tour each. We leave the office with taxi money and a city tour for the day after next. I'm getting fed up with people stealing my eyelashes and coming back for my eyebrows........After Japan and Myanmar the Vietnamese are stacking up in good company with the souk sellers of Marrakesh (but they have met their match).........at the opposite end of the spectrum we meet some who are incredibly sweet but can be over helpful.
I watch Bear lift a wiggly and pretend he is Ho Chi Minh.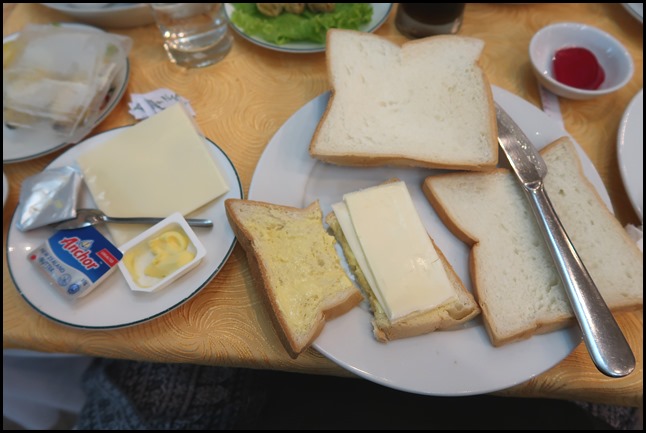 My supper arrives. I need a shandy.........
ALL IN ALL CAN THO IS A GREAT MIX OF LOCAL LIFE AND TOURISM
GREAT TRIP SHAME ABOUT THE P-UP AND BREWERY
---