To Carolina Beach

Beez Neez now Chy Whella
Big Bear and Pepe Millard
Fri 30 Dec 2011 23:07
Mile Hammock Bay to Carolina Beach
We were up and ready to leave at seven thirty. Lovely soft light of the morning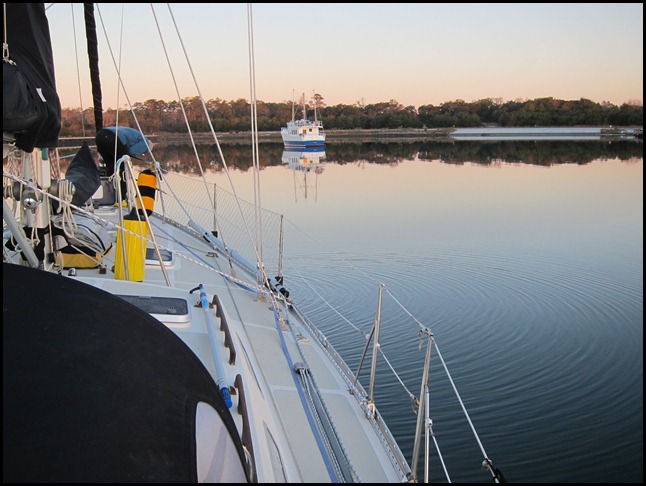 Once again the only movement on the water was Bear bringing up the anchor
We had an amusing 'Hare and the Tortoise' adventure this morning. Three yachts went off an hour before us, but as they had to wait for the ten o'clock opening of Surf City Bridge, yours truly tucked up right behind them. Exactly the same thing happened later in the afternoon – they had rushed off – we bimbled up the rear. We smiled sweetly. They tried to smile back.........
Something new to see was the Maritime Police stopping all the boys out fishing, checking permits, catch and equipment. This being a Saturday there wasn't too many minutes to wait for the blue light to flash once again. Another new one on us was one of the yachts ahead of us was boarded by the Coast Guard. Like all good 'dutiful worriers' we ran around Beez for five minutes at the news.
Bear was pleased to report that all is well and good with the Wise Owl, but his allocating is a bit different at this time of year
Is this a crab pot to be avoided ??? No just a seagull taking a bath
We call these little chaps – crab pots with eyeballs. They wait until Beez gets right up close before diving out of sight. Once or twice we have heard a 'clunk' as their timing is a little out
A crab pot lifter going out to work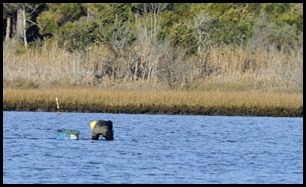 Bear was intrigued as to what this chap was foraging for. Whatever, it looks like cold work
At ten to four we passed Sharlotte Inlet. We merrily waved at all the holiday makers, people fishing, those just out enjoying the New Year break and thought no more of it. A few minutes later a voice chirped on the radio. "Coast Guard I am bringing in a lady I just pulled from the water near an aground vessel out by Sharlotte Inlet, she's got hypothermia". Coast Guard asked for confirmation which he got and sadly we heard no more. Just goes to show how a fun day can 'turn on a dime' for some poor folks.
With the current Bear had been trotting along at six point three knots. I took over at four and slid down the speedo to two point eight as a result of getting just beyond Sharlotte Inlet.
Passing this green marker buoy the current doesn't look like much but Beez Neez now felt like she was struggling uphill.
As we pulled in to anchor I heard myself say "Oh look, there are some white scarlet ibis". Yes dear.."Hey I'm used to the Scarlet ones in Trinidad". Yes Dear. "So what are you doing us for supper tonight, DEAR",
See Pepe swing the Skipper Bob Guide to the ICW around the back of Bear's head,
Nestled happily in our same spot between the small islands, beyond the other boats in Carolina Beach
ALL IN ALL A MIXED, VARIED AND ENJOYABLE DAY
---