Castle of Sao Jorge

Beez Neez
Skipper and First Mate Millard (Big Bear and Pepe)
Fri 29 Aug 2008 21:05
Castle of Sao Jorge
After the gruelling trek up to the Castle, I needed to sit and have a Calippo to cool down and get my pulse rate back to normal. That perked me up no end and I was ready then to clamber all over the Castle. It is in the cradle of the city. Visigothic in origin ( but there have been ruins found dating back to 6 BC ) is one of the finest fortresses in the country. Conquered from the Moors in 1147 by Dom Afonso Henriques. Thorough restoration in recent years.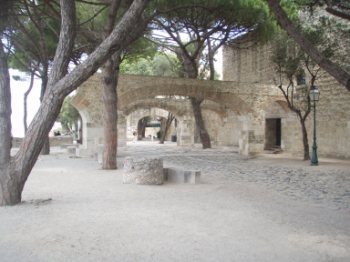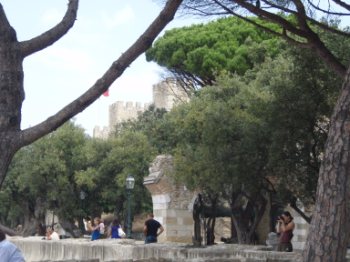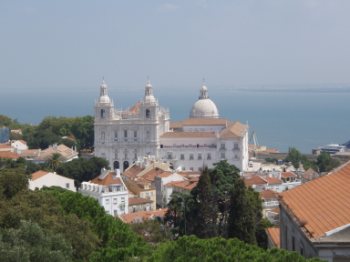 Bear with a funny looking chimney thing over his right shoulder, this is actually a periscope with a 360 degreee view over the whole city, when we went in to take a look there was too much mist for a clear view. The square shaping of the ramparts are very classic of Moorish design. The Cathedral was built by Dom Afonso Henriques on the ruins of the Chiado Mosque, completed in 1147. It is a characteristic example of Romaneque Art. It contains a fine treasure of religious art and gold work.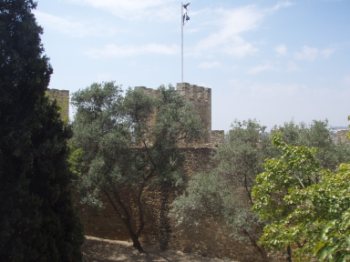 The middle photo I am quite pleased with shows The Convent da Graca.
Some of the original ruins, me with some nude Bear found and the well.
The streets around this square were almost totally destroyed by the earthquake of 1755. When they were rebuilt they were organised by trade. The jewelers, cloth, buttons ( we saw loads of button shops in a row, quite amazing ), silversmiths, goldsmiths, cobblers and food merchants each with their own street. Modern times see the streets filled with restaurants of every nationality, we ate in an Italian. The big white building is the railway station; to the north of it is The Church of St Anthony, patron saint of Lisbon, he was born in the city in 1195. He preached in Morocco, died in Padua in 1231 and was canonised shortly afterwards, his feast day is July 13th. Bear with the St Just lift in the centre of the photo.
A good photo to show the new city rising in the background. The airport is off to the right. We enjoyed our bimble around the castle.
---