Aqua City Lunch

Beez Neez now Chy Whella
Big Bear and Pepe Millard
Sun 15 Oct 2017 22:37
Lunch in Aqua City
Our only planned visit to a shopping mall was primarily for lunch with view, and, just once, have a look at how Tokyo can mix hundreds of shops, entertainment, cinemas, aquariums and eateries. We went to the top floor and bimbled past the crabs.........
We passed so many different restaurants, passed big displays of plastic dishes to choose from and smartly passed the sushi bars.
We found a restaurant with ten different buffet lines like this one. American, English, Thai, Chinese, Japanese, Italian, hot drinks, juices and fizzy, so many other bits and bobs, salads, ice creams and cakes.
To our left is the Hotel Grand Nikko.
Beside the Nikko is the Hilton Hotel. The promenade and out toward one of the many man-made islands.
Below us, to the front is a Statue of Liberty, a gift from France and the Rainbow Bridge.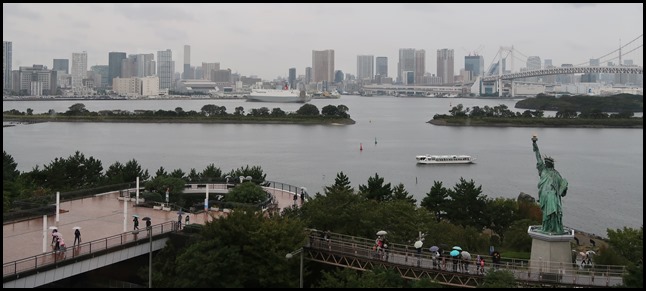 Well, colour-me-happy, a chum is backing out in the gloom of the afternoon.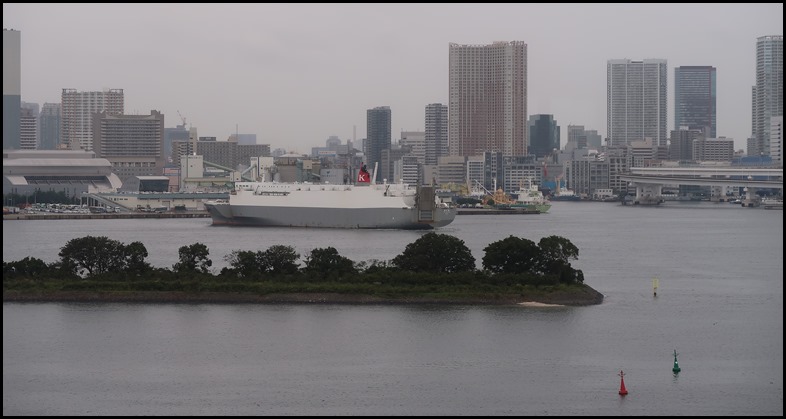 A closer look but sadly I cannot make out her name.
Now the rain is really heavy, we dawdle looking at the busy buoyage.
We leave our lunch venue to bimble through the fun stuff.
Aqua City Odaiba offers an amazing panoramic view of Odaiba.
This vast facility houses a shopping mall and a food court, with a total of over 140 shops and restaurants. Many of the shops carry a wide selection of casual clothing, and a range of kids wear as well. There are also a number of restaurants to choose from—Italian, Chinese, Japanese, and more.
A series of downward escalators gets us to the fish tank and we have to ask for help for the next bit.
The final escalator takes us cunningly to the back of Toys "R" Us, a bit of a surprise, but clever as it gets us to walk through the whole shop.
Out in the rain as our ferry arrives.
ALL IN ALL A PLEASANT LUNCH WITH A GREAT VIEW OVER THE HARBOUR
A HUGE VARIETY
---