Butterflies

Beez Neez
Skipper and First Mate Millard (Big Bear and Pepe)
Mon 2 Nov 2009 21:00
The Malcolm Barcant Butterfly Collection
A real surprise came as we were following Michele from the 'botanicals' cooking plant en route to the Angostura Museum. We past the tasting room where a mix of employees - all ages, all departments are given potential new products to try - professional tasters are also employed. The difference between a wine and a rum taster is simple. Wine tasters do a lot of sniffing, swooshing, tasting and spitting. Rum tasters have to swallow to appraise the effect as it slips down, the warmth, the after-taste etc. Needless to say those at the top of their game have a fairly short career and have be to prepared to get "off their trolleys" quite early in the day. If I had my career again...........................
Back to the tour, next to the tasting suite came a door into an Aladdin's Cave of butterflies. 623 butterflies are known to Trinidad that is nearly double the number found in the US.
"If it were possible for each of the 8000 plus specimens in the Angostura-Barcant collection to speak, they would bring tales of hours spent in the wild, and of patience at home. For each, its location, its behaviour, its capture, tells a story, "all of them I do not wish to forget." Malcolm Barcant also said "I really felt apart from the money, that the collection belongs to the people of Trinidad for educational purposes. Who knows? a youngster may see my collection and want to add to it or do better than I. It might motivate someone to see the beauty in nature, and that is reason enough to leave it with the people". Angostura gave a promise that the collection stay in Trinidad and visitors could look at this life's hobby / obsession. The Company did lend the collection once to a museum for a year and it took three to get it back, no more lending, here it stays forever - hopefully.
Malcolm Barcant of Lakeland spent fifty six of his sixty four years chasing butterflies through Trinidad and South America. The son of a well-to-do jeweler in Trinidad caught his first specimen at the age of eight. Later in life - this self taught naturalist - occasionally asked his wife, Jimmie (with whom he had three children) to wade out into a stream wearing a blue dress. She made a pretty decoy and the blue of the garment attracted the blue morpho butterfly. Malcolm discovered thirteen new species to Trinidad, two of which bear his name, Heliconius hecali barcanti and Pachythone barcanti. He preserved an amazing six hundred and twenty three butterflies known to have inhabited Trinidad and Tobago and his collection is regarded by eminent Lepidopterists as one of the world's finest.
Malcolm Barcant won his homeland's highest civilian honour - The Gold Chaconia Medal - for long and meritorious service to Lepidopterology on the 31st of August 1976, Trinidad Independence Day.
1964 to 1970 Malcolm explored Guyana, Columbia, Venezuela, Ecuador, Mexico, Panama and Brazil in search of exotic species.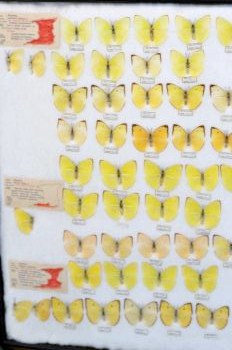 You can clearly see the early displays have a boyhood hobby feel, lines not quite straight - all adding to the quaintness. Whether you approve of such collections, this is priceless knowledge that Malcolm put down in a book in 1970, sadly out of print, but Angostura may be able to change that. Many of the rarest specimens could possibly be extinct so much work needs to be done still.
The company has a range of Butterfly Rums in honour of this extraordinary collection.
Our favourites. Malcolm cross-bred Morpho butterflies from two regions in Brazil with females of the Trinidad Morpho in 1967 - a biological experiment never before attempted or achieved in his country. He was honoured in 1972 when a commemorative set of butterfly stamps were issued in Trinidad, on one stamp the name "Barcant" stands out against the setting of his cross-bred Morpho.
We have seen three Emperors in the wilds of Venezuela but not managed to photograph them, here was my chance. We would loved to have spent longer looking at these beautiful creatures but next stop was the museum.
ALL IN ALL A SPECTACULAR INTERLUDE IN THE ANGOSTURA TOUR. THE SIZE AND THE COLOURS EVEN TO ME WERE AMAZING.
---