Telaga Date Night

Beez Neez now Chy Whella
Big Bear and Pepe Millard
Sat 9 Feb 2019 23:57
It was so lovely to see Beez looking so lovely at anchor and spuddling off on Baby Beez in past the local squid boats.
Final trigger finger of Malaysia in front of the Immigration building - had to be done. Absolutely, absolutely indeed.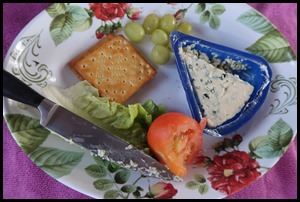 Off we went in a taxi to the airport for me to change the last of our Wingnuts (Ringgits) to US dollars and then for the last time to Hoon's (actually called P.L. Soon's but I have always called it Hoon's so there we are). A few treats for Bear and a few necessary bits and bobs collected in a flash. Talking flash – our elderly Chinese taxi driver cut quite a dash in his quite pointed white shoes, very flash compared to Bear's yellow Crocs....... Back aboard Bear settled to his blue cheese treat with a glass of red, the cheese was one pound twenty. Why didn't you get yourself a bit of brie, because it was six quid, so no I got chewy sweets for my treat.
Late afternoon we spuddled back, this time through Telaga Marina and on to the far side where we knew a great bar with great food. First though, we bimbled to the chandlery for some two-stroke oil and once Bear was settled with a beer and I had sipped some Sprite and Tiger mix shandy, I went off to do my stomps.
I followed the path toward the lighthouse passing more squid boats, many had their owners on board readying for the night ahead. A very haphazard, carefully owned shelter and more brightly painted boats. Families were fishing from the bank and greeted me warmly. The Malaysians have been such a friendly, warm and helpful people – we will miss them – but time to move on, on the morrow.
KHS 5495 has real style with a terrific monochrome of "you-know-who".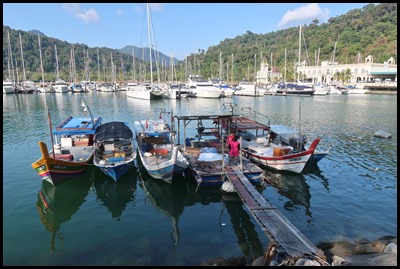 More getting ready to go off for the night.
At the far corner I could see Beez tucked behind a catamaran and just visible as I passed the lighthouse.
Back in the square full of eateries and shops, I passed this beautiful cerise bougainvillea – in flower, so of course I had to 'borrow' some seeds to take with us to the Caribbean where we hope to grow some beauties that will drape over the carport.
In the next pot a white and a pink had been grafted and I found a clutch of mixed leaves, had to harvest a few seeds. Rude not to.
I had done two thousand stomps aboard and by the time I had got back to Bear I had done a couple more. Grateful my shandy was waiting for me, I told our sweet waitress that I had to do one more, by the time I returned I had another beer waiting. Bless her. Still shy on numbers, I went again and as Bear saw me on the final lap he put in our order. Lamb shank with real mash, vegetables and real mushroom gravy. I instantly made a well in my mash and Bear looked all cheesy. Heavenly. Indeed.
Before I knew it my mouth said please may I have chocolate brownie (came with chocolate ice cream) and please may I have an extra dollop of vanilla ice cream........ As it was put in front of me I told our waitress "no calories" and she giggled. Bear had apple tart and ice cream.
Slipped down too smoothly and full to bursting we headed down the ramp back to Baby Beez. We bimbled by many more bougainvillea that willingly gave up some of their flowers as I had swept by. Mmmmm. Back to Beez Neez for a swim, a game in the cockpit and a drink as we watched our final Malaysian sunset.
ALL IN ALL A LOVELY WAY TO END OUR TIME IN MALAYSIA
VERY ENJOYABLE ENDING
---