Second Bimble

Beez Neez now Chy Whella
Big Bear and Pepe Millard
Sat 30 Jun 2012 22:07
We breakfasted in McD's – for the view and stepped out to a parade of young recruits. The band apparently made up of the tutors
We walked through the central plaza and had a quick look in the cathedral
The Cathedral de Santiago is on the east side of the park. Building began in 1542, it was destroyed by the earthquake of 1773 and was only partly rebuilt over the following century. Now the parish of San Jose, occupies only the entrance hall of the 17th century edifice and contains only a fraction of the original baroque art collection. Most of the treasures ended up on display in many churches in Guatemala City.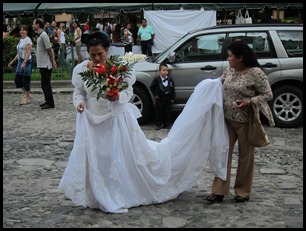 As we came out of the cathedral, debating whether to bimble round the market opposite, we saw a bridal car pull up. No Bear, they are not getting a parking ticket, probably just a permit. Then five of the Senile Seven went by taxi up to the Cross on the Hill (own blog).
We went seeking our language school, so far the area is quite nice
A quick check of the map. Just then a scooter stopped to ask if he could help us with directions. Having to 'pay' for such service in Morocco and Havana we are getting used to the shock of the people here being genuinely warm and friendly. Help comes free. Directions given our scooter chap bade us "have a good day" and off he carefully zoomed over the cobbles. They also giggle here when we say "Bless You" after they sneeze.
Perhaps the most photographed by tourists is the Arco de Santa Catalina. A remnant of the 17th century convent that stood here, now a luxury hotel. The arch allowed the cloistered nuns to cross the road unseen. The clock was added much later.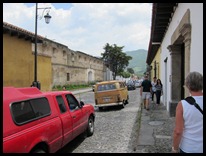 Passing La Merced we even saw a policeman being persuaded to buy a necklace
We found our school just around the corner from the church, conveniently – no tittering – next door to a massage parlour. Gulp. Well I just hope the head mistress has a very large cane for Big Bear. We knocked but sadly no one in, so off we bimbled.
We passed many pretty little eateries so close to school. And one offering Sunday Roast Beef, yes dear.
This little girl is call 'Tasha', short for Natasha, visiting from El Salavador and fully grown sitting in her carrying bag.
Just as we got to our hotel the heavens opened, sneaky window shopping to shelter
Clouds still looked ominous so we ate just across the road in a very nice bar, pasta all round washed down with a very large bottle of beer. I had a strawberry daiquiri which was strong enough for me to check for hairs on my chest. Early to bed as we are being picked up by minibus at seven on the morrow.
ALL IN ALL SETTLING IN TO THE TOWN VERY NICELY
GULP
.
---