TT Sunny Weekend

Beez Neez now Chy Whella
Big Bear and Pepe Millard
Sun 24 Jun 2018 22:57
Sunny Weekend with Team Tinson
Saturday dawned bright and sunny. Whilst Kate went to the hairdressers, Mark set off at a run with Jack on his bike to circum-ped Coate Water. Seth and I set off behind them at a far more sedate pace. The lake looked pretty as we went into the play park to wait for Jack to join us as Mark ran around for a second lap.
Mark finished his jog and then did some pull-ups, much to the bemusement of some of the youngsters. Time to head back. Kate and Mark went off to Bath for the day (a week early for Kate's birthday as she will be at her cousins wedding next Saturday). On grandparenting duty, we thoroughly enjoyed Jack and Seth, we played football, watched a film and the boys spent some time showing us various games. The day sped by.
On Sunday Kate took me to town to gather some bits and a fascinator for Jo (Bear's niece) and Ash's wedding. We got back to find the men enjoying a beer and Jack having fun on the skid mat.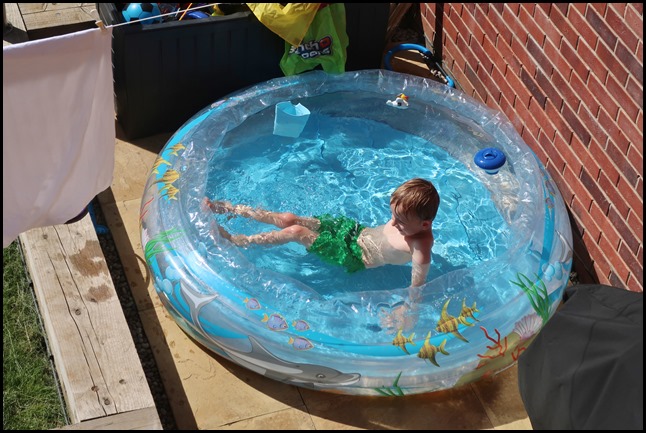 Seth lounged in the paddling pool.
Father and daughter time.
Mark added washing up liquid and Jack flew down the mat.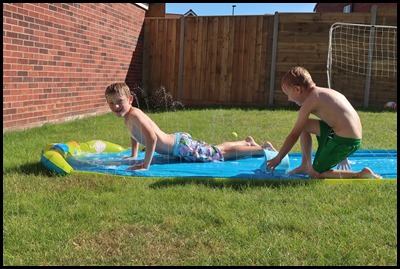 A great run, aided by Seth, Jack nearly went off the end.
Fun to do and fun to watch.
Seth took to a bit of dancing in the paddling pool.
You-know-who posed in his BBQ belt.......
but put on a good spread for supper.
After supper, Kate and I got down to the serious business of new Passports. First, we took pictures of each other, Kate decided I looked to severe with my hair up, so, a quick once over with a brush and.........Oh how much do I look like my mum...... Easy as wink on the internet, forms filled in, photograph accepted, paid and both of our old ones now sit in envelopes ready to go in the post on the morrow. A few minutes later, each of us received payment confirmation emails. Wow, how quick was that.
Monday saw the bigger pool in action, after the boys were in bed Mark adopted the position to read his book..........
ALL IN ALL A LOVELY FAMILY WEEKEND
GOOD FUN
---