WTC Visitor Centre

Beez Neez
Skipper and First Mate Millard (Big Bear and Pepe)
Thu 14 Jul 2011 16:11
World Trade Centre - Visitor Centre
We walked from Wall Street to the WTC Visitors Centre, drawn like magnets to this small exhibition just a few hundreds yards from Ground Zero. The place may be small but the impact was vast
There were plaques on each of the building supports, with very personal quotes - this perhaps was the most emotive
There were some personal items recovered after the attacks, also this bent and twisted airplane window and a gun encased now in solidified molten concrete
This steel beam recovered from the World Trade Centre site is dedicated to all those who toiled in grueling conditions for nine months to recover 19,979 human remains and 1.6 million tons of material of which 300,000 tons of steel was recycled. This is the traditional style FDNY stokes basket used to carry out the remains of many thousands who died at the WTC. During the closing ceremony at the site on the 30th May 2002, this flag was draped over the basket and the two were carried out as a symbolic representation of the last person recovered from the site.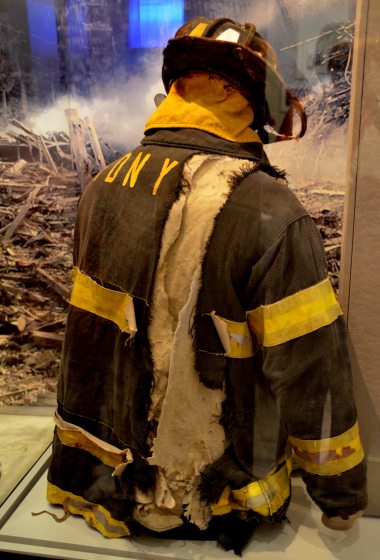 "Jonathan's helmet was found two weeks after Jonathan. The helmet is the symbol of every fireman; it's his signature piece that's been blackened and bent by many years of fighting fires. 343 firefighters were lost at the site but only 12 to 15 full helmets were found".
The coat tells the story of what these man and thousands of other people went through on the 11th of September. It is ripped down the back, ripped right off of him. Some guys from Rescue 2 were there when the coat was found and they gave it to me."
Lee Ielpi, retired FDNY, father of Jonathan Ielpi FDNY Squad 288.
This was very 'lump in the throat' for us. We have a DVD commemorating the impromptu cross that appeared in the rubble of Ground Zero that someone draped a Union Flag over, this became the symbol of hope in that dreadful time. In that DVD there are four main people being interviewed; a retired NYPD officer, a vicar, a policeman who went to the morgue and stayed there working for three years helping those deal with identification and Lee Ielpi. Lee a retired New York Fireman and several other dads also retired FDNY became a band of men seeking their own service sons. Jonathan was the only full body found of those lads. Seeing his jacket and helmet was extraordinary - as a result of the DVD we felt we knew him.
We also have the DVD made by Jules and Gedeon Naudet - two French brothers who happened to be making a documentary about a rookie in the FDNY called Tony. During filming they just happened to be out on the street doing an interview, heard a strange noise overhead and lifted their camera, they were the first people to film the first plane as it struck. They followed Tony as he went with a retired chief to help out. The brothers got split up and for many hours neither knew if the other had survived. We see a tearful reunion at the station house.
The 'missing' wall representation and the one produced as a flag
All the names remembered
This is Michael Johnson's picture on a copy of his Death Certificate. Immediate Cause - Physical Injuries (Body Not Found), a sad first for us to see that written as a cause of death. Michael is one of so many on the photo wall - some with little personal trinkets; a karate belt, lucky mascot, award or cup from school. Several people at a time just sat and quietly reflected, tissue boxes discreetly provided.
ALL IN ALL A PLACE WE WERE COMPELLED TO VISIT
---