Riviera Marina

Beez Neez now Chy Whella
Big Bear and Pepe Millard
Sun 17 Apr 2011 22:29
Riviera Municipal Marina, West Palm Beach, Florida
Our first marina in America
The huge eatery. We were treated to a live band each night - nice to backgammon to.
I thought Bear had taken up a new career
Some fun signs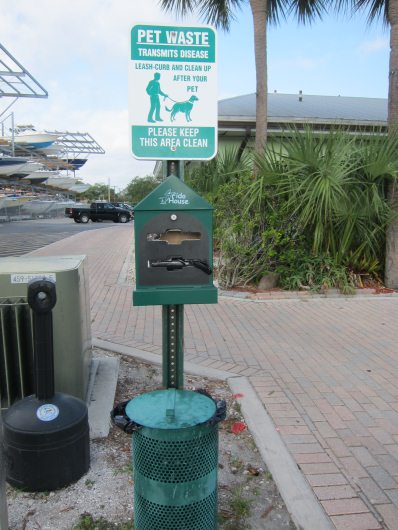 A great parrot and the dog poop 'thingy' looking a bit complex
A very sad looking girl parked along from us. There is no yearly discount here so someone is paying monthly for her
West Palm Beach, also known as West Palm, is the largest and most populous city in Palm Beach County, Florida. The city is also the oldest incorporated municipality in South Florida. According to the US Census Bureau, in 2010 the city had an estimated population of 99,919 up from 8,659 in 1920. It is the county seat of Palm Beach County, and is one of the principal cities in the South Florida metropolitan area, which has a population of 5,564,635. The area is known as the West Palm Beach-Boca Raton-Boynton Beach Metropolitan Division, which covers the entire Palm Beach County area. It is situated in the northernmost county of the South Florida metropolitan area. The city was founded by Henry Flagler as a community to house the servants working in the two grand hotels on the neighboring island of Palm Beach, across Lake Worth. The original spelling was "Westpalmbeach", but it was feared that the 13-letter word would be an ominous omen for the fledgling community. On the 5th of November 1894, 78 people met at the "Calaboose" (the first jail and police station located at Clematis St. and Poinsettia, now Dixie Hwy.) and passed the motion to incorporate the Town of West Palm Beach in what was then Dade County (now Miami-Dade County). This made West Palm Beach the oldest incorporated municipality in the county and in South Florida. The town council quickly addressed the building codes and the tents and shanties were replaced by brick, brick veneer, and stone buildings. The city grew rapidly in the 1920s as part of the Florida land boom. Many of the city's landmark structures and preserved neighborhoods were constructed during this period.
Originally, Flagler intended for his Florida East Coast Railway to have its terminus in West Palm but after the area experienced a deep freeze, he chose to extend the railroad to Miami instead.
In the 1960's, Palm Beach County's first enclosed shopping mall, the Palm Beach Mall, and an indoor arena were completed. These projects led to a brief revival for the city but crime continued to be a serious issue and by the early 1990' there were high vacancy rates downtown. Since the 1990's, developments such as CityPlace and the preservation and renovation of 1920's architecture in the nightlife hub of Clematis Street have seen a downtown resurgence in the entertainment and shopping district.
The youngsters having fun on the beach and a 'watcher stand' on the one careful owner at anchor. He was not the only eyes watching, it was a neat viewing platform though
This chap came up beside Beez and he was about a foot long
This one-footed fella just catching some rays
ALL IN ALL A CONVENIENT PLACE TO START OUT FROM
---