Day Two Touring

Beez Neez
Skipper and First Mate Millard (Big Bear and Pepe)
Sun 12 Apr 2009 23:02
Day Two Touring - To the top of the Right Island
After we had had enough of the crowds, heat, the heavy downpour, noise and in my case smell of the crabe fete, it was time to do more touring. First stop was Le Moule.
The town hall, Catholic Church and main street of Le Moule.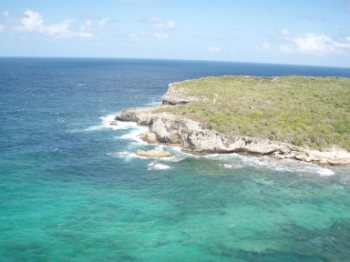 Porte d'Enfer
La Pointe de la Grande-vigie, first time we have ever seen a sign that says 'Death Risk'.

As we were at the very northernmost point of Guadeloupe, I picked up a stone to put in Rita's garden. This tiny chap had his home here. In the third picture you can see how small he is, near Bears right ring finger, we found another stone after carefully putting this one back where we found it.
Anse-Bertrand
We stopped for a late snack at Plage de la Chapelle where camps had been set up by families of at least four generations. Generators, disco decks and innumerable pots and pans of all sizes, ditto cool boxes were out for the Easter break. Needless to say my Skipper was not to be outdone, the stink that came off his pate could only be outshone that evening by the crab paella he had bought himself. That night can best be described as like sleeping with a sea-lion with bad wind.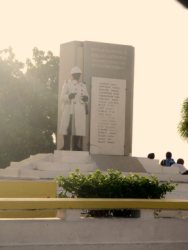 Port Louis main street, the first time we have seen a crucifix painted silver, pretty port and nice to see a black soldier on this WW1 memorial.
Chris Doyle in the guide book describes Port Louis as " A small but very attractive but very active fishing port on the northwest coast of Grande Terre. The surrounding land is low, with long attractive beaches on either side. The beach to the north is wide and showy, with rolling waves breaking ashore in places. The beach is popular with holidaymakers and there is plenty of action on the weekends, including snack bars and drink stalls". We left Port Louis with the help of a very attractive Gendarmerie who was mid way through a breath test of a quad-biker, when Bear tried to do a U'ee the wrong way down a one way street. She spoke no English, her orders were in very fast French, but we understood her hand gesture as to which way to continue.
As we passed back through Morne a l'Eau (site of the crabe fete) the heavens opened, the evening disco we have no doubt would go on, but with soggy gyrators'.
ALL IN ALL a good look about. An easy, fun day out on our first really flat island.
---