Marble and Teak

Beez Neez now Chy Whella
Big Bear and Pepe Millard
Sun 26 Nov 2017 23:47
Marble Yard and Teak Carvers

En route to U-Bein Bridge, Zaw our taxi/truck driver stopped at one of the many marble yards. Not a face mask in sight as we saw clouds of dust appear at regular intervals. A couple of novices trotted out and we sat and watched the comings and goings as Zaw described what we were looking at. Sagyin or Burmese marble comes from the north and ranges in colour from pure white to bluish grey. Men earn about five dollars a day while women take home about two.
Marked and ready for carving. In the 1990's the workers lives were revolutionised with the introduction of power tools. The government controls the industry, export tax is ten per cent and most of what we saw will be on its way to China, Singapore, Thailand and a little to Europe.
Myanmar is prolific in producing scripture readings on marble, we have seen so much of it. This finished chap is heading to China, all wrapped and ready to go.
This chap is waiting to have his features and hair done. Time to head to our next stop. You don't go more than a few minutes between stupas.
It's fun bumping along facing backwards – a really good way to see what's around.
Our next stop was at one of the hundreds of wood carving shops. An impressive frontage.
The black chap had just been finger-finished by a worker who had massaged the paint into every nook and cranny. Once dry he will go to the craftsman who will add fake gold leaf (from Japan or Korea). I actually preferred the natural teak-look of the items we saw in the workshop.
Inside the door so many teak screens and a quarter size elephant or two.
Next, we went to watch some ladies working on velvet. Hand stitching gold thread, beads and sequins.
Some exquisite pieces hanging on the wall.
A massive Aladdin's cave out back.
Amber jewellery.
A smorgasbord no matter where we looked.
I got Bear to pose for perspective and of course out came the trigger finger. I really fell for this chap which took two workers a solid month to produce and a price tag of three thousand five hundred dollars. What a statement piece as you walk into a hall or corner of a lounge. Zaw told us that he was made of tropic wood, very commonly used and cheaper than teak. Zaw, turns out he has a BSc in Biology, a Diploma in English and has been a tour guide for many years, but gave it all up to care for his sixty five year old mum with dodgy knees to drive a taxi, told us a fascinating fact – anyone can plant and grow teak but the government owns all the trees.........
Back outside and there was a colossal piece about eight feet wide carved from the root system of a tropic tree. Crocodile complete with cigar.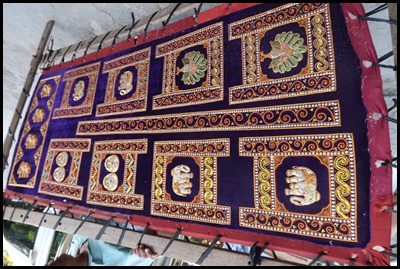 Zaw moved a drying frame (glue is painted on the back of a finished piece and stood outside to dry) for me to look at the front. A very traditional piece with elephants, peacocks and smiley faces..
ALL IN ALL SUCH RAW TALENT
INCREDIBLY SKILLED WORKMEN AND SO MANY OF THEM
---