NEWSFLASH Second Week

Beez Neez
Skipper and First Mate Millard (Big Bear and Pepe)
Mon 24 Nov 2008 21:30
NEWSFLASH - Second Week
We bade our fond farewell to John and Janet to begin our journey north, first to stay with Peter and Rita on Wednesday, day out with my mum Thursday, back to sleep at my brothers. Up on Friday to go onto Gloucester, Bears mum had prepared a first class chicken casserole followed by crumble and custard. Then onto Manchester.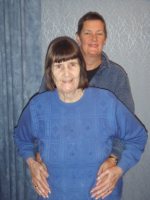 We met Bird, Danny and Joshua at the Indian for supper with Trish and Phil, Cath and Alan (Danny's parents and grandparents), good to catch up with everyone.
Joshua munching on a piece of naam bread. The family Law watching Cats and Dogs.
Joshua with Grandpa looking at letters, a smile for Grandma. Playing with Grandpa and ready for the off.
Sunday we went on to Burnley for the day with Gemma and Kaiser. Lunch with Cath and Andrew, Gammas' mum and dad, at the new carvery offering a record 27 puddings.
The carrot cake was 10 inches high, the chill cabinet, pavlova equally as high as the carrot cake. Hot puddings came with a choice of cream, clotted cream and custard.
Cuddle with mummy, a private chat with Grandma, and telling Grandpa all about teething and daddy getting back from Cyprus on the 3rd of December, "he will be amazed at how I've changed".
The cold was a terrible shock to our system. All three Grandsons are growing, Jack may be transferred to Swindon next week. My stump of tooth was removed last Thursday and still giving me enormous pain, self-operated to remove debris, supported by Tramadol and alcohol. Flew back to Lanzarote at 15:00 Monday 24th November.
All in all a busy two weeks.
---