Maurole Welcome

Beez Neez now Chy Whella
Big Bear and Pepe Millard
Fri 26 Aug 2016 22:57
Maurole Welcome
We settled promptly at six but didn't move to the stage seating for over an hour. A dragonfly sitting on Gin's knee gave us a respite during the long wait.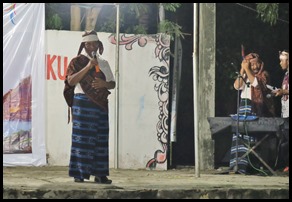 A man who looked and sounded like Deputy Dog stood and gave a very long welcome speech in a voice that sounded like a young lad mid voice-breaking-time. The translator was good in as much as he did quite a bit of paraphrasing, then came the local dignitary. Thank heavens the beer fridge was restocked.
The entertainment (all local school children) began by a chap cantering around, stopping to pose in a threatening stance before being joined by a group of young ladies.
More young men joined in.
The hand gestures were very Thai-like and the finale brought an almighty cheer from behind.
Turning, we could see most of the inhabitants of the two villages had massed into a frenzied and loud crowd.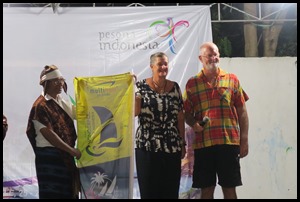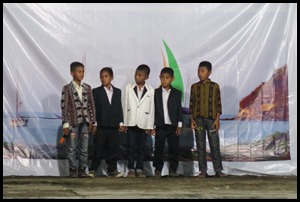 We had the privilege of presenting the signed rally flag to the headman who wore incredibly shiny shoes. Bear gave a little speech and after translation we were followed by a Jackson Five group of youngsters dressed to the nines.
Next, a very nice dance explaining how rice came to be.
This pair received cheers and whoops that would have them believe they were Nureyev and Fontain as they finished their modern dance. A delicious supper was served at ten to nine – sadly, no one took the microphone from Deputy Dog who wailed loudly all through the meal. The interpreter gave up and went for a smoke or three. After we had finished eating the dancers had us all join in.
ALL IN ALL A GREAT EFFORT BY EVERYONE TO WELCOME US
INCREDIBLE SO MANY LOCALS TURNED OUT FOR US
---