Zipline Ride

Beez Neez
Skipper and First Mate Millard (Big Bear and Pepe)
Wed 20 Aug 2014 22:57
Our Zipline Fun Ride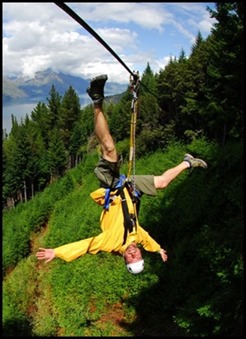 Queenstown is all about fun, we saw the adverts for Ziptrek and went to book.
All we had to do was choose between the Moa and the Kea – Kea it is then.
We met our group, our guides Jags on the left and Jess on the right, both in orange helmets. The rest of our group were a smashing set of youngsters from Australia all on a skiing holiday. One of the chaps was actually afraid of heights, how amazing that he would put himself through such a challenge.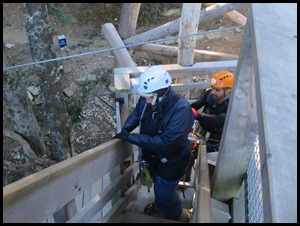 Off to our first zip. Jess went to the other end to see us in. Jags clipped me on, checked my harness, told me to walk down as many steps as possible, sit into it and Whoosh.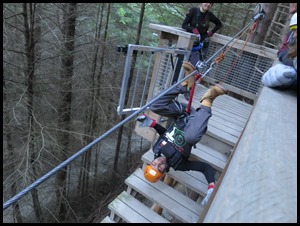 Jags went off first on our next zip. Before he went he showed us how to flip upside-down.
Way to go Big Bear.
The views were extraordinary.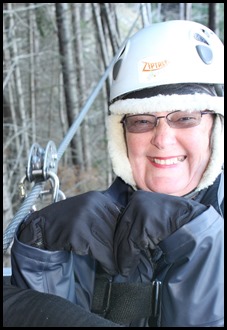 One zip we had to do something, Bear chose a Hakka with Jags in support, I did a heart for our grandbabies.
Bear thoroughly enjoying himself.
Such fun.
Flying Bear.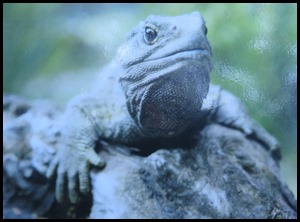 In between zips, we learned about kiva.org, an incredible service helping the needy that want to get on. Say we leant a hundred dollars to Kiva, they would in turn lend it to someone who, for example, wanted to set up a shop on one of the islands in the Pacific who otherwise would have no chance of borrowing. That person would pay the money back in time, that done the money comes back to us. Something we will have to look into. We also learned a bit about the flora and fauna of the area. This chap is the famous tuatara.
The last zip, the longest and fastest had the most security.
We had an extra clip and a safety net if we Jags missed our first break. The the net was lowered and on we went.
The worst bit was waiting for my turn, walking down the slightly wobbly stairs and sitting into it.
Once away it was brilliant and over all too soon.
All safe and what a laugh.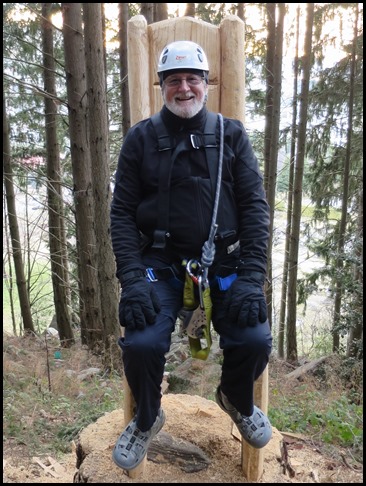 At the end of our trip there was a freshly carved high chair, don't ask, we didn't, but Bear tried it out.
Cannot thank Jess and Jags enough for giving us such a brilliant afternoon.
ALL IN ALL A GREAT WAY TO COME DOWN A MOUNTAIN
FABULOUS, SPEEDY THRILLS
---