Monticello

Beez Neez now Chy Whella
Big Bear and Pepe Millard
Sat 1 Oct 2011 21:07
Monticello is in the 1000 Things to See Book, a National Historic Landmark and is just outside Charlottesville, Virginia. People told us it would make a nice day out and only about an hour south from our B+B, so off we went after an enormous breakfast. Monticello was the estate of Thomas Jefferson (1743-1826)
, theorist, the principal author of the United States Declaration of Independence. The ideals of the Declaration – that "all men are equal" (Oh, unless you were born black and stolen from Africa – he viewed blacks as racially inferior but it was OK to have them bear your children, bitchy, yes I am) and have the right to "life, liberty and the pursuit of happiness" – established the foundations of self-government and individual freedom in America. Jefferson's words of 1776 still inspire people around the world today. After writing the Declaration, Jefferson spent the next thirty three years in public life, serving as delegate to the Virginia General Assembly and to Congress, as governor of Virginia, minister to France, secretary of state, vice president and third president from 1801 to 1809. His notable achievements include the Louisiana purchase and the Lewis and Clark Expedition.
Jefferson designed every aspect of Monticello, an icon of architecture. He constructed and modified it's buildings and landscape over a period of forty years. He believed that human reason and knowledge could improve the condition of mankind. Jefferson studied science and was an "enthusiast" of the arts, shaping public architecture in America and contributing to horticulture, ethnography, paleontology, archeology, astronomy, to name but a few. In retirement, he designed and founded the University of Virginia.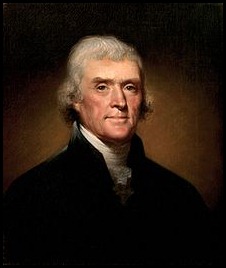 Thomas Jefferson painted in 1800 by Rembrandt Peale (1778-1860)
Potted Jefferson:
1743 – Thomas Jefferson born on the 13th of April at Shadwell.
1760 – Enters College of William and Mary
1764 – Inherits three thousand acres along the Rivanna River.
1769 – Becomes member of House of Burgesses. Begins construction of Monticello
1770 – Takes up residence of Monticello
1772 – Marries Martha Wayles Skelton, a twenty three year old widow.
1775 – Attends Second Continental Congress.
1776 - Draughts Declaration of Independence, which is adopted on the 4th of July
1777 – Serves in Virginia House of Delegates
1779 – Elected Governor of Virginia
1782 – Wife Martha dies
1783 – Elected to Congress
1784 – Begins diplomatic service in France
1789 – Returns to the US
1790 – Appointed first US secretary of state
1796 – Elected vice president under John Adams
1801 – Elected third president on the 36th ballot in House of Representatives
1803 – Commissions Lewis and Clark Expeditions. Concludes Louisiana Purchase.
1804 – Re-elected president.
1809 – Retires to Monticello.
1815 – Sells personal library to Library of Congress.
1817 – Designs and plans the University of Virginia.
1826 – Dies on the 4th of July, the fiftieth anniversary of signing of the Declaration of Independence.
Jefferson taught himself to be an architect, relying on observation and books, especially the Italian Renaissance architect Andrea Palladio's Four Books of Architecture (1570), which promoted a universal architectural vocabulary based on the buildings of Rome. In 1768 Jefferson began leveling the eight hundred and fifty foot high mountaintop for his house Monticello- the name comes from the Italian "little mountain." Thus began a forty year period of design, construction and remodeling to create his "essay in architecture". The house is extraordinary, not only in design, but in the unique way Jefferson related it to the landscape by incorporating open-air living spaces, most notably the L-shaped terraces that serve as extensions of the main floor.
The first Monticello was a two-story, eight room house. Although it included the kinds of rooms typically found in Virginia plantation houses, the outward appearances revealed Jefferson's reliance on Palladio's rules of classical architecture. A French visitor in 1782 noted that Jefferson was "the first American who had consulted the Fine Arts to know how he should shelter himself from the weather". The exterior was mostly finished by 1784, when Jefferson sailed for France, where he served for five years as American minister. In 1796, inspired by modern neoclassical houses he had seen in Paris, Jefferson began transforming Monticello into a three-story, twenty-one room structure. His free white and slave craftsmen removed the upper story, extended the east front and created a new second level for bedrooms within the height of the first floor. They also constructed a dome over the west front, the first on an American house. Inside and out, Jefferson incorporated design elements from famous buildings of antiquity. By making references to ancient Rome, Jefferson was suggesting connections between the young American republic and the Roman republic.
House and Furnishings: By the time Jefferson retired in 1809, the remodeling of Monticello was largely complete. Few aspects of the house's design and decoration escaped Jefferson's attention. He selected virtually all of the furnishings, even window draperies. While living in France, Jefferson acquired luxury goods in Paris and London, including upholstery fabrics, furniture, ceramics, silver and scientific instruments. After his return to America, eighty six crates of goods followed him home. Jefferson also purchased furniture from cabinet makers in Williamsburg, Philadelphia and New York and used his skilled enslaved cabinet makers to build his own furniture designs. We were fascinated with his "photocopier" and thought his writing tablet was very ahead of its time.
The main floor of Monticello contains eleven rooms, the first being a museum / hall that welcomed most visitors. With the display, Jefferson sought to demonstrate that North America could hold its own with Europe. Exhibits included maps, European art, bones, horns and skins of extinct and living North American animals, and Native American objects given by western tribes to Lewis and Clark. In the parlour with its elegant parquet floor Jefferson's family and their guests gathered to read, converse, play games and musical instruments. Jefferson's catalogue indicates that forty eight works of art filled the room. Many of these were portraits of men who inspired or influenced Jefferson, notably, his "trinity of the three greatest men the world has ever produced," Francis Bacon, Isaac Newton and John Locke. The dining room and the adjacent tea-room provided graceful accommodation for the two meals served daily, breakfast and dinner. Jefferson's years in France heavily influenced Monticello's cuisine. James Hemings, a slave, accompanied his master to Paris and trained as a chef. Daniel Webster, who dined at Monticello in 1824, described the dinner as "served in half Virginian, half French style, in good taste and abundance." The private rooms on the main floor included Jefferson's suite, two guest bedrooms and a sitting room, used by Jefferson's daughter as her office and schoolroom for her children. When Jefferson retired in 1809, his wife Martha had been dead for twenty seven years, their only surviving child, Martha Jefferson Randolph, moved her household from her husbands nearby plantation to live with her father. She was the mother of eight children at the time and would give birth to three more between 1810 and 1818.
Jefferson's apartment, called by one guest his "Sanctum Sanctorum'" comprised a book room or library, two louvered outdoor porches, a greenhouse complete with aviary, a cabinet or study and a double height sky-lit bedroom, with his alcove bed set between the two rooms, his study and his bed chamber. The alcove bed was a space saving aspect of French house design that Jefferson adopted when he remodeled the house, adding alcoves in every bedroom. Actually we thought this was a really neat design, the three "windows" seen in the picture act as air vents to his wardrobe accessed by steps via the door to the right. We think this could make a claim to being the first 'fitted bedroom'. Jefferson stored winter clothes in the wardrobe in the summer and swapped as the seasons changed.
The book room and cabinet was where Jefferson wrote letters, read and engaged in a number of scholarly pursuits, including using instruments for observing, measuring and recording nature. The book room housed much of his nearly seven thousand volume library, one of the best in North America. As well as being a polymath he liked to read in several languages, some self taught. "I read Greek, Latin, French, Italian, Spanish and English of course, with something of it's radix the Anglo-Saxon."
The two upper floors of the house contained nine bedrooms used by Martha Randolph and her family. They are accessible by two steep, narrow staircases designed by Jefferson for economies of space and money. The dome room on the third floor was used at times as a bedroom and as a store room.
Jefferson' health began to deteriorate by July 1825, and by June 1826 he was confined to bed. His death was from a combination of illnesses and conditions including uremia, severe diarrhoea and pneumonia. Jefferson died on the 4th of July 1826, the fiftieth anniversary of the Declaration of Independence, and a few hours before John Adams. Though born into a wealthy slave-owning family, Jefferson had many financial problems, and died deeply in debt. He gave instructions for disposal of his assets in his Will and after his death, his possessions (including the persons he held as slaves) were sold off in public auctions starting in 1827, Monticello itself was sold in 1831. Thomas Jefferson is buried in the family cemetery at Monticello. The cemetery only is now owned and operated by the Monticello Association (Jefferson's descendants), a separate lineage society that is not affiliated with the Thomas Jefferson Foundation that runs the estate. Jefferson chose where he wanted to be buried in 1773, with other members of his family and wrote his own epitaph, which reads: Here was buried Thomas Jefferson. Author of the Declaration of American Independence of the Statute of Virginia for religious freedom and father of the University of Virginia. The gravesite was laid out upon the death of his closest friend and brother-in-law, Dabney Carr, the plot is on southwest slope of Monticello mountain.
After Jefferson died on the 4th of July 1826, his only surviving daughter Martha Jefferson Randolph inherited Monticello. The estate was encumbered with debt and Martha Randolph had financial problems in her own family because of her husband's mental illness. In 1831 she sold Monticello to James T. Barclay, a local apothecary. Barclay sold it in 1834 to Uriah P. Levy, the first Jewish Commodore (equivalent to today's admiral) in the US Navy. A fifth-generation American whose family first settled in Charleston, South Carolina, Levy greatly admired Jefferson. He used his private funds to restore and preserve the house. During the American Civil War, the house was seized by the Confederate government and sold, but Uriah Levy's estate recovered the property after the war. Lawsuits filed by Levy's heirs were settled in 1879, when Uriah Levy's nephew, Jefferson Monroe Levy, a member of Congress, prominent New York lawyer, real estate and stock speculator, bought out the other heirs and took control of the property. Like his uncle, Jefferson Levy commissioned repairs, restoration and preservation at Monticello, which was deteriorating seriously while the lawsuits wound their way through the courts in New York and Virginia. Since 1923 it has been owned and operated by the Thomas Jefferson Foundation.
Monticello is the only private home in the United States that has been designated a UNESCO World Heritage Site. From 1989 to 1992, a team of architects from the Historic American Buildings Survey (HABS) created a collection of measured drawings of Monticello. These drawings are held by the Library of Congress. The World Heritage Site designation also includes the original grounds of Jefferson's University of Virginia, the only university in American to be on the UNESCO list. He also designed Poplar Forest, the home near Lynchburg which he intended for his daughter Maria.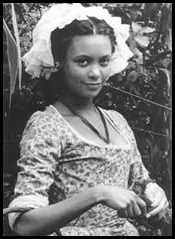 Jefferson's paternity of slave children had been rumored from 1802 during his presidency, with reports by the journalist James T. Callender in the Richmond Recorder. Jefferson never responded publicly; his daughter Martha and oldest grandson Thomas Jefferson Randolph later denied the accusation. Acknowledging the Sally Hemings' children's strong resemblance to his grandfather, Randolph told the historian Henry Randall that Jefferson's late nephew Peter Carr was the father. A 1997 analysis of the historiography of the controversy by Annette Gordon-Reed showed oversights by historians and spurred a 1998 DNA study. It showed a match between the Jefferson male line and an Eston Hemings' descendant, the only Hemings male descendant available for testing. There was no match between the Carr line and the Eston Hemings descendant. The Thomas Jefferson Foundation (which runs Monticello) did an independent review of all the evidence in 2000, as did the National Genealogical Society; both concluded that Jefferson was likely the father of all six of Sally Hemings' children. Their views were accepted by many major biographers and other academics in the field. Further indications of changes in the field were the awards in 2009 for Gordon-Reed's book on the Hemingses of Monticello, which included Jefferson's paternity; it won the Pulitzer Prize for history and fifteen other major awards. In 2010 the MacArthur Foundation noted that Gordon-Reed's "persistent investigation into the life of an iconic American president has dramatically changed the course of Jeffersonian scholarship.
An image of the west front of Monticello by Felix Schlag has been featured on the reverse of the nickel minted since 1938 (with a brief interruption in 2004 and 2005, when designs of the Westward Journey series appeared instead). Monticello also appeared on the reverse of the two-dollar bill from 1928 to 1966, when the bill was discontinued. The current bill was introduced in 1976 and retains Jefferson's portrait on the obverse but replaced Monticello on the reverse with an engraved modified reproduction of John Trumbull's painting Declaration of Independence instead. The gift shop at Monticello hands out two-dollar bills as change.
ALL IN ALL A HOMELY HOUSE WITH SOME GREAT DESIGN IDEAS
UNEXPECTEDLY INTERESTING
---