WWR Navua River

Beez Neez
Skipper and First Mate Millard (Big Bear and Pepe)
Fri 14 Aug 2015 22:47
White Water Rafting on the Navua River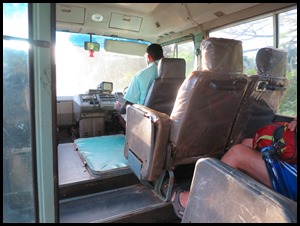 We were picked up at six forty five and loaded into an ancient bus for the short ride from Pacific Resort to the rafting HQ. There we were shown our route for the day - red for road, blue for river, signed a waiver and got into another bus. We left the main road and followed a very bumpy logging road for about one and a half hours.
We went over a couple of rustic bridges, stopped half way for juice and banana cake and listened to a talk about the area. Here we were assigned our teams and learned our raft driver was Batti. On we went for the second half of the journey.
At our final stop we were given our life-jacket, helmet and oar. Then we went on foot down a steep track for fifteen minutes.
Batti our driver and guide. The formidable four locked and loaded.
The scenery of the upper river was so unexpected, this deep gorge was used in the film Anaconda 2.
We paddled past many waterfalls. The wear of the rocks made it seem as if we were going uphill.
The next bit looked 'downhill' but the water was flowing so slowly.
We pulled in for our lunch beside a smaller river.
No sooner than our trusty steeds were parked, the boys got to setting out our picnic lunch. Bear posed in the stream.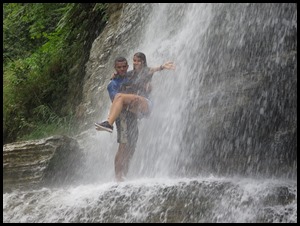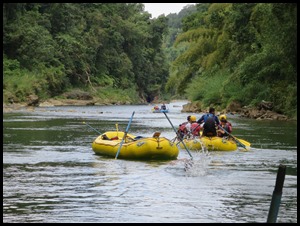 Fun in the waterfall, our guides had water fights and our steed was ambushed but Batti rescued him.
Bear had a cool down in the freezing water and then it was time to set off once more.
The river widened and there were many water fights between the boats.
Days end. The boys quickly readied our steed to be stowed by Batti. A tiny frog bade us 'farewell'.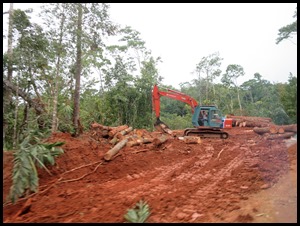 We had juice and cookies in the lower village. Said our 'farewells' to the guides and back on the bus for the journey back to base.
ALL IN ALL A BRILLIANT DAY OUT
GREAT FUN IN BEAUTIFUL SCENERY
---