Departing India

Beez Neez now Chy Whella
Big Bear and Pepe Millard
Fri 10 May 2019 14:57
Departing India
What can happen between posting a a week's update blog and coming back from a quick dip in the pool. You move aside for people to come up the middle of the hotel steps and as you take the last of the three down, you fall in spectacular fashion. Two floor tiles with about an inch difference in height did it. Foot down in forward motion, over on the ankle and off I flew. Said people, a lovely young couple, immediately wanted to haul me upright. I wanted a minute to rub, assess and possibly ask for an ice pack. Gathering concerned souls had me ask Bear for a pull-up, hobble to the marina foyer and assess there. Painful hobble, sit and raise foot on table, only to find concerned security guard ready to point his torch at it for greater stardom, now increasing in size quite quickly. Nothing for it but to wobble home, wincing. On board, we both looked at what looked like a conker shoved against my right ankle bone. Of all the roller skate dancing, all the cross country running, nary a twinge of either ankle. Growling. Anti-swelling cream and a compression bandage, foot elevated but no sympathy from the skipper who was ruthless at finishing the Mex Train game we had started before we went to the pool. Pain killers, a hot toddy and there I was about to drop off, Oh, need a tinkle. Put foot to floor, bit hand to stifle a scream, levitated a bit and really did begin to wonder if I had done a bit more than a sprain. The thing that upset me the most was by the time I got back from the pool I only had 1500 stomps to do. Forgot all about it and went back to zero from one hundred and twenty-five days straight...........
A few days later, hobbling with walking stick, I fully hoped for a dramatic black bruise, no just a little swelling.
Yesterday, still not black (inner and outer bruises), so a bit disappointed to say the least. Went over in Baby Beez to clear out with Port Authority and Customs, Immigration told us to come back tomorrow but I looked down at my support bandage and winced, the nice chap looked at my Passport and promised to make a note of Bear coming in "on his own". Back to Beez, Uber taxi to Lulu's, how a forty minute taxi ride can cost one pound thirty and they still make a profit is beyond belief. Anyhoo, our final supermarket shop, didn't plan on filling two trolleys, again...... Not room to fit an ice cream wafer aboard now I sigh. Washing up to date, bedding changed. Dozen eggs hard-boiled, four portions of rice for 'is nibs freezer collection - to be going on with.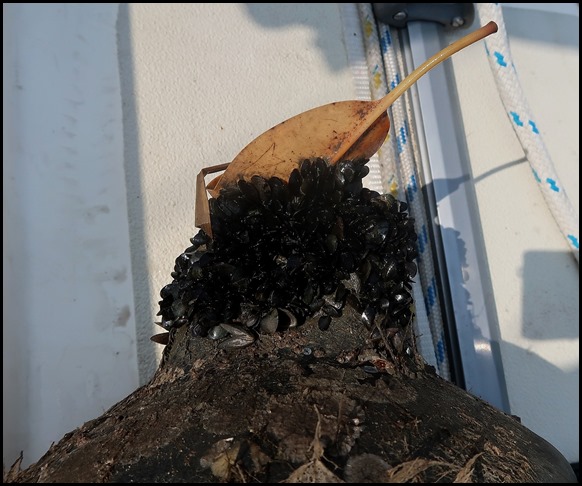 You know it's time to leave when your fenders are sporting small farms. So pleased to say Beez Neez only has the odd barnacle as the (at first so very annoying) sonic clicker is doing it's job. Bear nipped over to Immigration, then hopped on the ferry to get the pawpaw we forgot yesterday and planning to be off at four o'clock. Three days-ish to The Maldives, hope to have internet in a couple of weeks in Gan. I will put mini-blogs on once a week so our little flag moves southward. If no internet for some reason, then we are four weeks in Chagos and a couple getting to Madagascar. Hope to be back with full comms by the 18th of July. Love to all for now. xx xx
ALL IN ALL HEADING FOR ADVENTURES NEW
GONE VERY FAST
---