Errol's 71st

Beez Neez now Chy Whella
Big Bear and Pepe Millard
Wed 26 Oct 2016 22:57
Errol's 71st Birthday and Equator Crossing Party Aboard Restless M
We were welcomed aboard Restless M by King Neptune himself, resplendent in blue.
Queen Amphitrite formally welcomes her guests – Cherie (Grasshopper) and Bear.
We took our glasses of 'fizz' to watch the sunset. Lightning flashes across the sky all evening but no rain since this afternoons storm.
Beez Neez sits quietly next to her new, massive friend as a local boat comes to greet Neptune (including the midwife).
We drool over the size of the fenders and anchor chain of this beautiful one hundred and fifty ton lady – originally built as a mother ship to a fishing fleet before becoming an icebreaker and treasure hunter, the latter she was extremely successful at.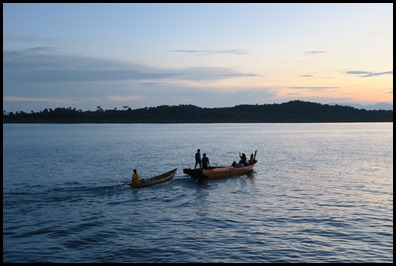 The lovely boarding party leave after many photographs.
Final light of the day.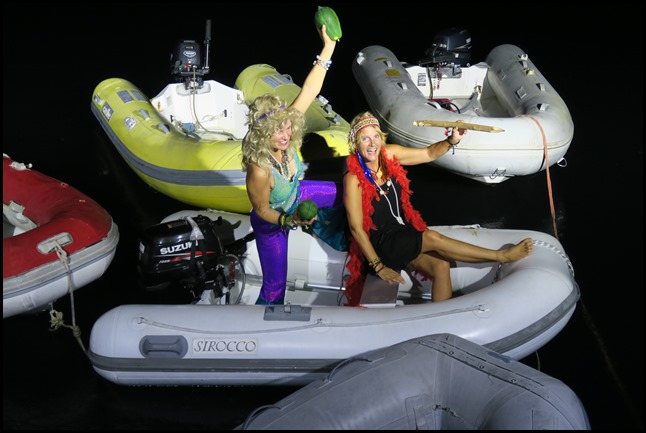 I didn't like to ask but it was something to do with Claire and Melian having to pose to send the photographs to Robby (our guide on Ketawai). We were all impressed that no one fell in and the poses were professional.....
After we had enjoyed the nibbles everyone had brought, Claire invited us to roast lamb, mash, peas, sweetcorn, gravy and homemade breads. I couldn't get over the numbers that were catered for – on china plates - we would have to have had everyone shoulder to shoulder all over the deck and standing room only in the cockpit and downstairs, here we were all seated around a table on the foredeck........with plenty of room for more........Not to mention the grand piano in the lounge.......... a different world. Michelle presented a chocolate cake made by Philippe – the finest, lightest gluten free cake I have ever tasted. Then Claire presented a sponge cake. Errol blew his candles and made his wishes. We then had the 'ten cents tour' of this huge but very homely lady. Most of us settled in awe in the 'flight deck' and cooed at the sophisticated equipment until it was time to go home to our tiny homes.
ALL IN ALL A FABULOUS EVENING WITH SMASHING PEOPLE
FANTASTIC FUN WITH 'KING NEPTUNE'
---