Percy Ashore

Beez Neez
Skipper and First Mate Millard (Big Bear and Pepe)
Sun 22 May 2016 22:57
Middle Percy Ashore
Our view to the far left of West Bay, in the corner there is a navigable channel at high tide to hide in Boat Harbour, a mangrove fringed hidey-hole – not for us.
Ahead the famous Telephone box to the left and the A' Frame building.
To our right the rocky corner.
Anchored at twenty past two we had a quick bite to eat, Bear launched Baby Beez and we went for a spuddle ashore. We had thought to do our first exploring when we got to St.Bees Island, but after reading the book, the history here needed a look.
We bimbled along the beach and on the far right we saw a tiny plaque.
The plaque was dedicated to Matthew Flinders.
Pinkish tinges on the rocks here.
Lots of sandy nooks with trees behind the rock fringing.
We walked to the corner and followed the sandy track in. We laughed at the two yellow guide buoys. Paddled through the last bit and clambered over rocks covered in the sharp edges from where oysters had long ago been harvested.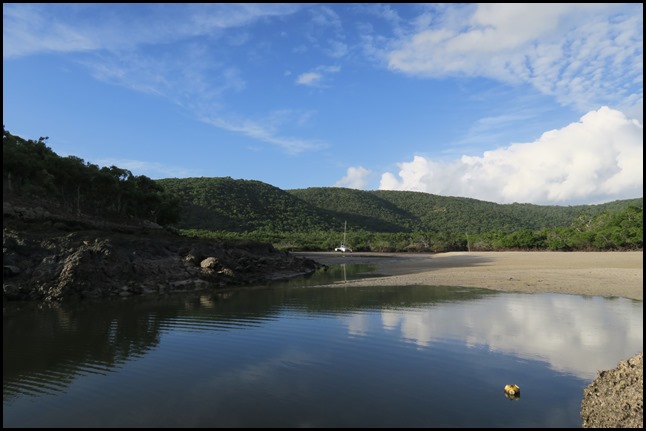 Looking in to Boat Harbour.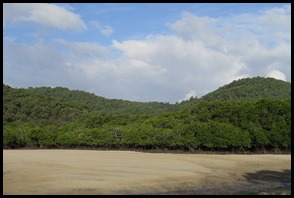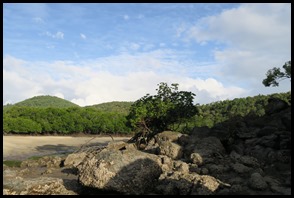 A girl parked to the far left, mangroves ahead and the right corner.
The book says: At the northern end of West Bay there is a completely protected boat harbour which all but dries at low tide but provides an ideal permanent berth for those wishing to stay awhile at Percy. It can only be entered at high tide; the outside sandbanks – which are a simple extension of the beach – dry 1.4 metres above low-water springs. Therefore a vessel requires her draught plus 1.4 metres to negotiate the entrance. Definitely not for us, too difficult to boil the kettle if Beez was laying down..........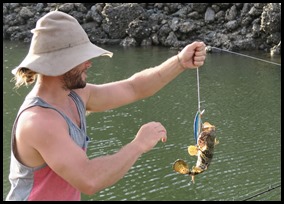 On our way out of Boat Harbour we saw a stingray skitter from the warm shallow water then we found a couple of lads fishing. A cod was caught within seconds of a cast but managed to wiggle free, just as well, the lads were catching bait for later 'big boys'. A great hat that has seen many miles service. They were on a week long fishing trip from Brisbane and had raced up the coast from where they kept their little boat in two and a half hours.
Above us a terrible commotion and racket from some very agitated cockatoos, the reason was soon made clear as a wedge-tailed eagle glided into view. May have to bring out the big camera for our bimble up to the homestead on the morrow.
Water sand patterns.
Looking back at the entrance to Boat Harbour.
Back on the beach the boys boat chatting to Baby Beez.
We manoeuvred Baby Beez back into the water, Bear got me settled aboard and as he was starting the outboard a sneaky wave caught me and I was absolutely soaked. Wish I had been looking up so the soaking hadn't come as such a shock. En route home our next door neighbours hailed us, "come over for sundowners", just as soon as I change into something dry. That done we went over to meet Somerled liveaboards Bob and Renee, and further neighbours Karen and Chris who impressed us with their tales from their circumnavigation. During our visit the heavens opened and it poured really hard, our first rain in months, quite a novelty.
ALL IN ALL A UNIQUE OUTPOST
LOVELY, SURPRISING FIND
---