Wanci Bimble

Beez Neez now Chy Whella
Big Bear and Pepe Millard
Mon 8 Aug 2016 22:47
Wanci Bimble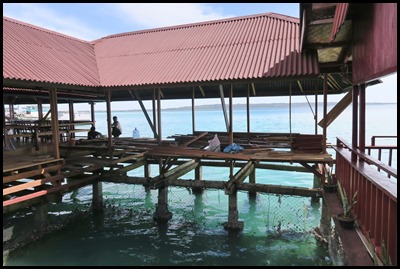 The ambulance dropped us at an eatery being built around us as we settled to the noise of a circular saw and much hammering. Settling in two groups, each with someone able to trot us around the menu.
Deb poses with our Coca-cola and Lemonade, as you can see it translated into a coca-nut and liquidised melon................. Well we are in Indonesia. The boys could have downed a long, cold beer – no, this is a dry city.... Bear's lunch came ten minutes before mine and ten minutes after Mary's, a very tasty seafood rice with an egg on the top. I went for plain noodles with little bits of chicken.
Any scraps went to the fish who circled hungrily in their netted pen. Lightening speed.
The far end once the other group had left looked quite pleasant. The reception room was laid out nicely although the right hand wall was a bit off upright.
Time to explore the facilities. Natural air conditioning along each wall, the nice, big space currently being used by the decorators to store their stuff.
The luxury toilet complete with bailing pail. The water added flushed the lot straight out below into the sea. The aroma – moving on.
The door lock and bent nail door handle.
The wash basin on the terrace. The work in progress pile.
We watched as Bruce tried on a 2XL tee shirt that just went over his head, it fitted Deb well, perhaps a little long but no chance for Bear or me. Familiar looking boxes behind the cash desk, these were called City Fried Chicken. Total price for lunch for the two of us............ a colossal five pounds.........
Walking out to the High Street we wondered if this should now be called the Rescued Craft.
The skeleton is all that's left of this one careful owner.
The frontage to our lunch spot belies the joys 'at the rear'. Two doors down the Hotel Wakatobi (we think all part of the same 'complex'.
Along the road we found a toy shop with a fruit and veg stall. As a treat we bought a pear each for seventy five pence, four apples for a pound and a melon for pound.
Looking down the road, the adventure saved for another day.
We crossed over to see a kiddies ride under the shade of a tree tucked between the bank and the supermarket.
The well stocked shop. Bruce checking out the 'dangerous' sauces.
The brightest cot I have ever seen.
When did this happen ??? so many different flavours of talc.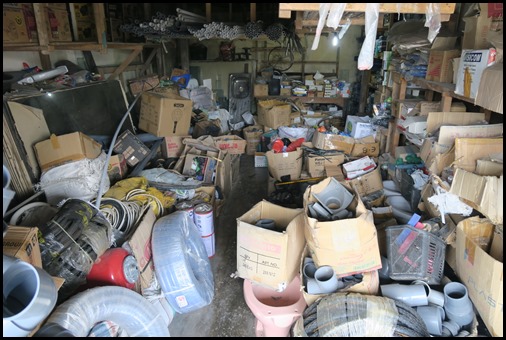 Photographs of the town and market, favourite was the hardware shop.
Bear must have felt the need to make up for the malaria test fiasco this morning as he offered me boiled eggs for supper, produced an egg event and bade me enjoy the fantastic sunset.
ALL IN ALL A NOISY BUSTLE IN POOR REPAIR
TYPICALLY INDONESIAN BUT SLIGHTLY BETTER OFF
---