21-23/11/18

Beez Neez now Chy Whella
Big Bear and Pepe Millard
Fri 23 Nov 2018 23:57
21st – 23rd of November 2018
Wednesday 21st. My day began with much head scratching over the design of the removable cockpit seat cover saga. Covering the arms are the next step. Bear cleverly shut himself in the office to download sea maps for our onward passages. Hey, I know when to keep very scarce and very silent. Growling. Seeing you with a mouthful of pins is pretty scary. Disappear Bear, disappear or I will kiss you. I'm gone, poof, gone.
Razali came this afternoon and YAY, we have a fully functioning conservatory – at last. We went out to deal with the now very scruffy tarpaulin, cutting it down to provide a wigwam from the pram hood forward to cover amidships.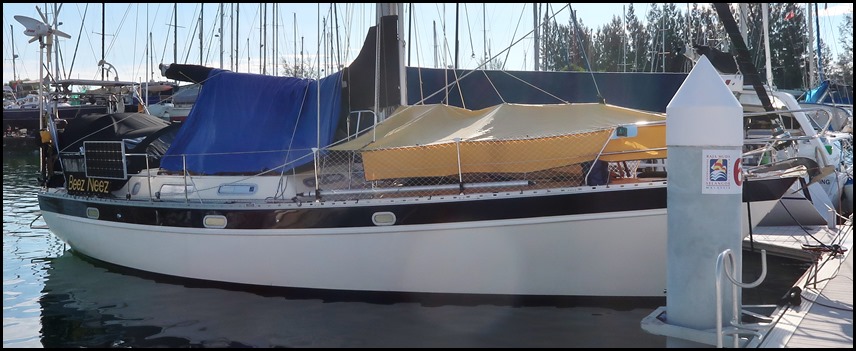 Two layers and a good rope at the front fold, excess trimmed, edges tied to the hand rail and the result was really quite smart.
I went back to fighting the cockpit chair, no, I can find something else, oooo yes, by late afternoon I had finished my stock take and put a huge order in to Lazada (Malaysia's Amazon). Gravy powder, milk powder, Easiyo Yoghurt Mix, cheese powder to give taste to twenty bags of 200 Gm instant mash (highly regarded as the same cheese used in KFC dips........), ten boxes of Bear's Muesli - so pleased it will come in dribs and drabs so it can be stowed bit by bit, spreadsheets be still their beating and ready hearts, steady.
Thursday 22nd. Our fridge part is in Penang, ready for Customs. Back to the chair covering job....... Bear pottered about the estate, Bob also needs to get his life raft serviced so we will take them both to Penang on Monday and he will pick them up – teamwork. Bear went to the Marina Office to collect our laundry and then we settled to lunch. OOooo, the best bit of news, the grotty yachties aka piddler has gone. That is so good to know, now just for Flashman.
Friday 23rd. I did my best to think of jobs to enable me to dodge the cockpit chair saga. I spent ages researching Visas for Chagos, Sri Lanka and India, too soon by three weeks. Mmm, great, it's lunch time. A terrible loss at both Backgammon and Sequence, Bear was dodging a few jobs too. We both feel like we are running on fumes just now. Bear set to painting the jerry can support board black and I settled to my sewing. Many stabs from pins, several bad words and the final pinning was done. At six thirty I handed Bear his chair. Too tired to ask him to sit in it for a test drive, Beds stood in for the skipper.
ALL IN ALL NOT A BAD WEEK......... SO FAR
---