To Jerejak 2

Beez Neez
Skipper and First Mate Millard (Big Bear and Pepe)
Thu 16 Feb 2017 23:57
To Jerejak for the Second Time
We left our overnight 'nest' at seven thirty on low tide. Just as well we didn't rush at the beach in Baby Beez looking at the sharp stones now visible.
Looking ahead, the soft light of morning.
The moon still out and high above us a sea eagle's nest.
The 'canyon-like' feel so reminded us of Guatemala. Out into the bay.
The islets. We had an average of five metres below, left turn and open sea with twelve metres.
The final rocks before open water.
Looking back to the islands (Langkawi Geopark) as the sails went up.
At midday we were midst hundreds of hungry fishermen.
Half past noon a lady came by trailing her net.
At half past three I was just saying how wonderful it was not to be on constant lookout for FADS and floats, well colour me unhappy, it was as if someone heard me and there they were – a field of them............
Nothing for it but shrug, stand up and look out over the pram hood. This set of flags had rather attractive yacht motifs...............
At five thirty the top of Penang came into view, we could make Jerejak before dark – or we could have anchored off Straits Quay Marina.

Colour me happy – Intrepid zoomed by.
An odd looking business over to our left and........is that girl working......
Tong Tu is a trailing suction hopper dredger and we are thrilled to see one for the first time AND working. This lady registered in Tianjin, China was built in 2011 and can trot along at 10.5 knots to a maximum of 14.7. Her DWT 22,929 tons with a gross tonnage of 20,281. Length 100.3 metres, width 30 metres and a draught of 11 metres. What a wow. Wiki Says:
Trailing Suction Hopper Dredger: is a ship that has a full sailing capacity used to maintain navigable waterways, deepening the maritime canals that are threatened to become silted, to construct new land elsewhere or to replace sand eroded by storms or wave action on the beaches. This made possible by large powerful pumps and engines able to suck sand, clay, silt and gravel.
Loading: From the side of the ship one or two suction pipes descend to the bottom of the seabed. On the end of the pipe a so-called trailing drag head is connected. This head is comparable to a large vacuum cleaner and is trailed along the seabed. In the head, there are nozzles connected to a high-pressure water installation that are capable of loosening the material on the seabed. Due to lower pressure in the pipe, the material will be sucked inward and discharged in the hopper.
The vessel should always have a positive speed over the ground. It is possible to regulate the density of the sucked substance. If the head is lowered, more material will be sucked but there is a greater possibility of damaging the installation because the material can get stuck inside the pipes. Once the mixture is loaded inside the hopper, the substance will sink and the water is discharged overboard, creating more room for extra substance. A trailing suction hopper dredger is only capable to suck relatively loose substance because the steel teeth are not so big. Harder substances such as rock, or iron-based rock must be destroyed by a cutter.
Discharging: There are several ways to discharge a TSHD. The most common way is dumping the material.
· Dumping - This is done by simply opening the doors that close the hopper. Once opened the substance will simply drop to the seabed because of gravity. The hopper will never be completely empty because there will always be some residue and water left inside.
· Pressing - High pressure pumps will pump water inside the hopper to loosen or even liquefy the substance, which can then be pumped via long hoses over great distances (f.i. ashore)
· Rainbowing - This is the same principle as pressing, but instead of transporting the substance it will simply be blown away. This is often used to create land.
· Crane - It is always possible to discharge the load with a crane, but this will be a time-consuming process.
Passing the main port.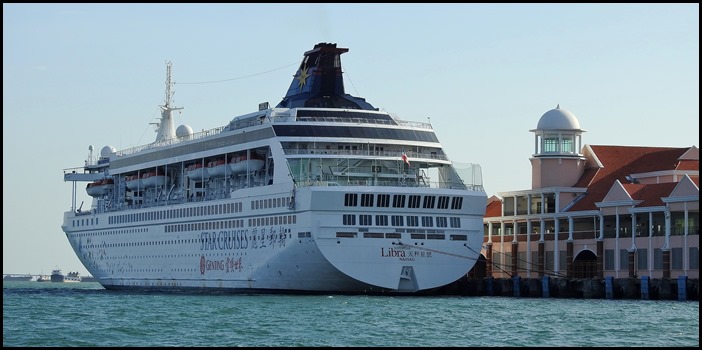 Over on our right was Star Cruises SuperStar Libra, a mature lady built in 1988, known then as Seaward, currently sitting in her home port although she is registered in Nassau, Bahamas. She weighs in at 42,275 gross tons, is 216 metres in length, 28 metres wide and a draught of 7.2 metres. She soothes along at 9.3 knots but can rush at 13.4. She can carry 1480 passengers in 740 cabins ranged on ten decks with a crew of 740, mmmm one per cabin.... During 2014 she won Battle of the Halal Chefs with seventeen awards, the following year she won twenty five including a gold.
Our first chum of the day – We have met this line before but this girl is called Wai Hai 311, she carries the flag of Singapore. Built in 2005 she has a DWT of 32,937 tons, is 213 metres in length, 32 metres wide with a draught of 10.2 metres. She travels an average of 8.8 knots to a maximum of 10.7. Happy us.
Nearing First Bridge we passed this big girl, couldn't see her name but they waved heartily.
Second Bridge in sight and some parked ladies.

Our favourite – Samudera Jaya, we thought was en route to being a one careful owner but she was only built in 1999 and registered in Belize so she has put a few miles under her hull. Length 20 metres, what a cutie, width 10 metres and she trots along at 7.9 knots.
The impressive bridge.
After First Bridge we turned right and tucked in to anchor more or less where we were the first time we came here.
ALL IN ALL LOVELY TO SEE CHUMS AGAIN
FAMILIAR AND COMFORTABLE
---