Kroko Ind Day

Beez Neez now Chy Whella
Big Bear and Pepe Millard
Wed 17 Aug 2016 22:57
Kroko, Indonesian Independence Day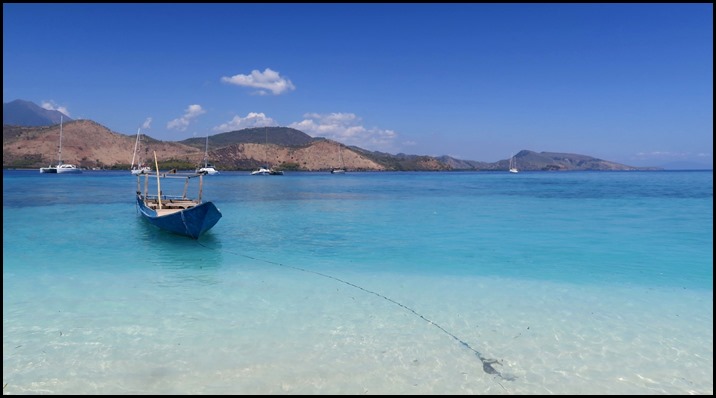 We jumped up this morning and saw a flag had been put up on the little sand island for Indonesian Independence Day. We took some little toys over for the children and a football, what a smashing picture the local boat made.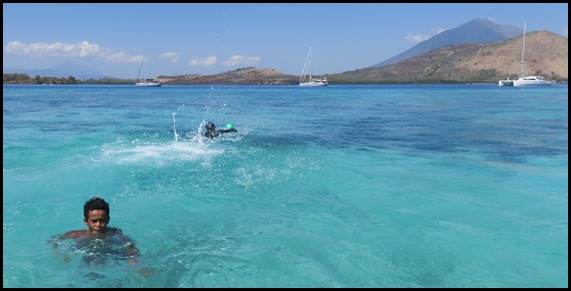 We threw the ball for the bigger boys to race to.
A bit of a game, a few photographs and we left the locals to their day.
Beez Neez looks rather gorgeous.
Next stop was to enjoy birthday cake on Wishful Thinking. Michael blew out his candle and made a wish.
Gin's cake making is top drawer and the crews of Afar VI, Beez, Soul and WT thoroughly enjoyed the delicious light sponge with jam and cream middle with a cup of tea. A local paddled up with his home-made (plastic bags) sail...............
......................he offered us fish but they were so diddy no one bought, but what a picture with the volcano behind.
We went over the far side of the bay to check out snorkel potential and enjoyed the scenery.
On our way back we stopped as we both saw what we thought looked like the sort of bag oranges come in, in a spirally red – thinking that this might get caught in a propeller as it was a couple of metres in length we attempted to collect it. We both missed as Baby Beez was a bit stubborn and when I finally did get hold I found the weirdest thing, it was gooey, like slightly firm egg-white. Then it started to sink deeper in the water clearly offended at being man-handled, as it went down I only got this poor picture. Later we found out it was called salp.
I put Bear in this picture as the ones without him look as if I've enhanced the beautiful blues.
The seaward reef edge, just grass on our side.
Locals out fishing.
Back toward the islet to the left of Beez, we thought we would snorkel nearby.
We found our spot, anchored Baby Beez and enjoyed the view of the anchorage.
A wonderful place to snorkel.
We all met later for a battle of Finska between the girls and boys.
A stunning place we will be sorry to leave on the morrow.
As we were enjoying sunset a local boat arrived and we had a smashing time with the youngsters.
ALL IN ALL A LOVELY, PACKED DAY
WONDERFUL TO SEE THE CHILDREN HAVING SERIOUS FUN
---