To Airlie Beach

Beez Neez
Skipper and First Mate Millard (Big Bear and Pepe)
Fri 3 Jun 2016 22:57
To Abell Point Marina, Airlie Beach
We woke this morning to a high tide, so different a view than at low. All ready to set off at half eight. We have really enjoyed it here at Cid Harbour.
Todays fifteen mile journey, an easy one.

Ahead Mollie Island and beyond we could see the mainland.
Behind us we were leaving the rain.
Back to Mollie, we saw an amazing sight – a low-lying rainbow actually growing before our eyes.
A little bigger.
Full view.

Moving and fading.
Looking around Mollie, a resort on Daydream Island. The sun hasn't got out of bed yet.........
Away to our right, Gloucester Island - the furthest, faintest island in the middle.

Ahead, our first look at Airlie Beach.
Behind us, the Whitsunday Islands.
Amazingly, the water depth out this far is twelve metres, ever so slowly dropping to four near the marina. Abell Point Marina looks diddy (over to the right) but it has a whopping five hundred and seven berths.
A very parsey pad on Pioneer Point.
I lined up between the two outer markers and entered passing the welcome sign.

Passing the outer wall on the right. A very different way in, as in the picture below.
Ahead, the inner markers.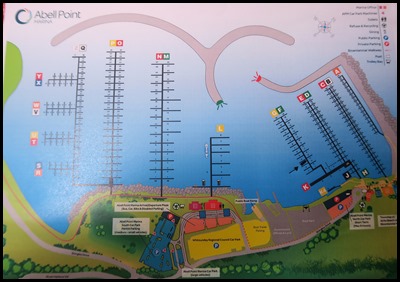 We always ask for 'something easy as Beez has a lady driver', sometimes it really works. Through the inner markers and into an enormous space, straight down to G3, a whole catamaran space for us and Alex was there waiting to take ropes and hand over a welcome pack. Originally from Eastbourne, here for fifteen years, he was full of helpful suggestions and then mentioned we can use one of the marina cars for two hours shopping twice in a week.
The enormous space, now behind us. To our right a full service boatyard. Bear went off to do the office stuff, I changed the bed and gathered the laundry. While Bear was out he popped in to the electrical people. Our brain is telling us we have 30% charge when really it's about 75%. Mmmm. So looking forward to standing under a shower for ages, rather than feeling we mustn't use too much water, that's after I get the mower to the skippers face and head.
Beside us on the pontoon we have our very own reef.
ALL IN ALL RAINBOWS TO WELCOMES
A SHORT HOP FROM THE RAIN TO THE SUNSHINE
---